John R. Gernert Star Ball Exhibit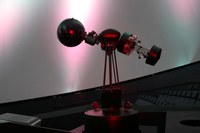 When the Gheens Science Hall and Rauch Planetarium opened in 2001, the opto-mechanical star machine was state-of-the-art technology, projecting the night sky, stars, planets and moons with crisp precision. The ball itself had over 4,000 tiny holes for light to shine through, accurately reflecting the night sky. Separate geared controls cast the planets and moons on the dome. With the advent of digital technology, the star ball machine was retired in 2013 and replaced by a Spitz digital SciDome which is able to do all of the functions of the previous star machine plus much more.
The John R. Gernert Star Ball exhibit allows visitors an up-close view of the amazingly complex star ball machine and the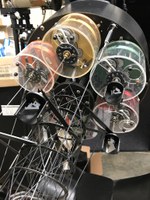 console that controlled it. This celebration includes a virtual journey in the planetarium dome that highlights features of the original star machine as well as some of the features gained with the digital SciDome. 
The exhibit is free and open during our regularly scheduled public shows or else contact us to arrange a visit on a week day: 502-852-5828 or planet"at"louisville.edu.
Click here for directions and parking information.
John R. Gernert (b. 1926 in Louisville) is a lifelong educator, learner, and lover of astrophysics.
He and his sons Rudy, Rob and Reed are proud to sponsor the  Star Ball Exhibit.