Beatrice Ugiliweneza, PhD, MSPH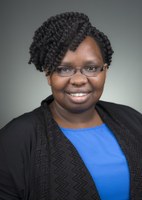 Assistant Professor
Department of Neurosurgery
Director of the Bioinformatics Core
Translational Research - KSCIRC
Dr. Ugiliweneza's research and professional interests lie on the analytical continuum from data knowledge to quality and improvement in healthcare. More specifically, she is interested in healthy analytics, health services and outcomes research, health economics, and health policy. She has worked and collaborated on many projects resulting in numerous peer-reviewed publications. Her current on-going projects include evaluating the long term outcomes associated with spinal cord injury, healthcare resource use and cost for individuals with spinal cord injury, comparative effectiveness of different care modalities in terms of clinical trajectories after spinal cord injury using administrative databases and data generated by KSCIRC.
Dr. Ugiliweneza's educational background spans the analytical fields in theory and application with a PhD in Applied and Industrial Mathematics and a Masters in Biostatistics from the University of Louisville, Louisville, KY. She holds a BS in pure Mathematics with a minor in Theoretical Physics from the Universite de Niamey, Niamey, Niger.
Dr. Ugiliweneza leads the Bioinformatics Core which is an in-house statistical and analytics consulting team, providing support for KSCIRC and the Department of Neurosurgery in:
Study design: sample size and power calculation
Data analysis: including statistical analysis, data mining, and other analytics needs
Reporting: tables, figures, graphs
Manuscript development: methods and results sections
Other responsibilities in this role include performing research on the best bio-analytics methodologies for all the data generated by all KSCIRC cores.