Professional Development
The University of Louisville is committed to providing tools and information that lead to measurable performance improvement, increased job satisfaction, personal development, and positive morale for faculty and staff.  Every semester, Human Resources offers professional development programs that are free to any employee.  See the descriptions below and click "REGISTER" to sign-up and attend.  E-mail staffdev@louisville.edu with any questions.
Professional Development Sessions
View the 2020 Spring Professional Development Catalog
Conducting Effective Performance Appraisals (ONLINE NOW)
Presented by Brian Buford, Director of Employee Development & Success
April 8, 2020, 9:00 am - 11:00 am, Belknap Campus, Human Resources Building (1980 Arthur Street) Register here
April 9, 2020, 9:00 am - 11:00 am  Health Science Campus, Clinical Translational Research Building Room #124 (505 South Hancock Street) Register here
We all want to be part of a high-performing, engaged workplace and a thoughtful performance appraisal process is one of the best tools for making it happen. Performance appraisals create an opportunity to set meaningful goals, discuss employee development, celebrate success, and provide constructive feedback for the year ahead. With a new instrument and schedule for appraisals, this workshop will provide tips and resources for making the most of the process and prepare for this year's October 31 submission deadline. All employees are welcome. Additional information to gain access to the training will be emailed out.
Electronic Communication (E-Communication)-Let's Do It Right
Presented by Dr. Diane Tobin, University Ombuds
April 8, 2020, 12:00 pm – 1:00 pm, Health Sciences Campus,  Clinical Translational Research Building Room #124 (505 South Hancock Street), Register here
At the very least we all use email and text.  Most likely we watch videos on YouTube and create PowerPoints for classes or conferences.  We teach online, FaceTime, Skype and use many other video conferencing apps to communicate.  We FaceTime, put pictures up on Instagram, Message and the list goes on. But there are limitations and conflicts that arise when e-communicating, especially when emailing and texting.  What can we do to minimize misunderstandings when using e-communications?  When should we use email and texts?  How do we be inclusive and communicative without being invasive?  Come to this training and find out the answers to these and many more questions about communicating in the electronic age.
Assertiveness Training
Presented by The Human Development Company
April 15, 2020 from 9:00 am - 10:30 am, Belknap Campus, Human Resources Building (1980 Arthur Street) Register here
April 16, 2020 from 12:00 pm - 1:00 pm, Health Sciences Campus, K-wing Building Room #2037 (555 South Floyd Street)  Register here
Some employees may experience difficulty speaking up for themselves. Knowing the difference between being assertive and aggressive can impact the way a message is perceived. This workshop provides participants with the tools to assert their positions and needs more effectively. Additionally, they will learn how to utilize appropriate communication skills to maintain boundaries, access necessary resources and negotiate with confidence. 
Diversity Series
Engaging in Difficult Dialogue
Presented by Marian Vasser, Executive Director of Diversity & Equity
April 14, 2020, 2:00 pm - 3:30 pm, Belknap Campus, Human Resources Building (1980 Arthur Street), Register here 
April 21, 2020, 12:00 pm - 1:00 pm, Health Sciences Campus, Clinical Translational Research Building Room #124 (505 South Hancock Street), Register here
Talking about race, gender, sexuality, and other identities can be challenging, but we get better at it with practice.  In fact, not talking about it can sometimes cause more harm and leave us all feeling disconnected from one another.  As the university makes diversity, equity and inclusion the foundation of everything we do, now is the time to start building your skills to have successful conversations about identity and learn some techniques you can use when you need them.  This session is for anyone who wants to send a message of inclusion to students, colleagues, and others and will include opportunities for hands-on practice in a safe learning environment. 
Other opportunities to engage in making UofL a Great Place to Work
Staff Fellowships, Apply here open from March 2nd through March 20th, 2020
What is a staff fellowship? In this context, they are short-term learning opportunities that place you in a setting where you can learn new skills or explore other careers at the university. In the 2020 pilot, a staff fellowship will consist of matching you with a university department or program, creating a plan that includes specific activities to be completed, and identifying an advisor to guide and support your experience. A fellowship will generally consist of 10 to 20 days that could be done all at once or incrementally, depending on the nature of the work to be done onsite and your responsibilities in your home department.

The ideal participant is a UofL staff member who wants to grow professionally and learn about another facet of the university.

While there are many benefits to participating, the completion of a fellowship does not include the promise of a new position or a salary increase. Rather, it provides participants with new skills that can be leveraged in a job search and reflected on a resume, and exposure to a network of colleagues and experts who can be advocates.

Eligibility
-Any UofL staff member, exempt or nonexempt, with at least two years of service;
-The participant must show consistent performance appraisal review ratings of "Meets expectations" or higher;
-Demonstrated enthusiasm for continued career growth and support of the university's vision.

To complete your application, you must submit this form and the following:
-Letter of Interest to staffdev@louisville.edu 
-Letter of Support from your supervisor to staffdev@louisville.edu
Supervisor Coaching Circles, CLOSED
HR's Employee Development and Success Office is offering new opportunities this semester to explore leadership and supervision through supervisor coaching circles.Coaching circles are small, organized groups of university supervisors committed to learning together about effective supervision and leadership in monthly meetings. Unlike a typical workshop, coaching circles are focused on support and real-world conversation about challenges supervisors are facing. In a coaching circle, the members actively guide the direction of the discussion and learning. 
Why join a supervisor coaching circle? The benefits include:
• A network of supportive peers you can call upon for support, encouragement, and input (a community of care as the Cardinal Principles describe). 
• A focus on real supervisory concerns you are facing and deeper exploration of how to address them effectively.
• A coaching model that includes listening, asking good questions, and reflecting that helps every member discover their own answers and celebrates the expertise that each person brings to the conversation.
(We will strategically work to place individuals in groups with supervisors outside of their unit/department.)
Dare to Lead Book Club, CLOSED
HR's Employee Development and Success Office is offering new opportunities this semester to explore leadership and supervision through facilitated book discussion groups. We are teaming up this semester with the UL Alumni Association to read the best-selling book Dare to Lead. Author Brene Brown describes Dare to Lead as "The ultimate playbook for developing brave leaders and courageous cultures. Daring leadership is a collection of four skill sets that are 100% teachable. It's learning and practice that requires brave work, tough conversations, and showing up with our whole hearts."
Each participant will be responsible for acquiring the Dare to Lead book and complete the assigned reading prior to the session.
As part of the Alumni Association's book club, employees can sign up to participate in the online community that includes discussions and resource sharing. Sign up here to join or learn more.
Employees who participate in the book club can also join an in-person discussion group to talk about the book and how it applies to their role at the University of Louisville. We will host four monthly conversations per group (concurrently with supervisor coaching circles) based on the four skill sets discussed in the book. In fact, those who sign up for one of the in-person discussion groups will be eligible to win a gift basket of items from the Alumni Association!
All discussion groups will be facilitated by a convener and will aim to be informal, interactive, and informative. Space is limited so sign up now for the time that works best for you. You must commit to attending all four meetings to be accepted into a group. At the end of the four sessions, participants can decide to continue or conclude.
Mentoring for Success Program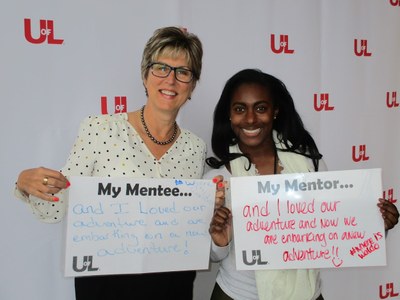 Applications are currently closed, they will reopen January 2021.
Who can participate?
Mentors:
Potential mentors can be any UofL faculty, staff member, or retirees who have been an employee of the university for at least two years. Depending on their role, potential mentors may need to seek manager approval prior to participation. 
Mentees:
Potential mentees can be any UofL faculty or staff member who has been an employee of the university for at least one year. We also strongly encourage employees who hold marginalized identities (women, people of color, LGBTQ, etc.) to apply in support of the university's focus on "celebrating diversity, fostering equity, and striving for inclusion."  Regardless of role, mentees will need to seek permission from their managers prior to participation. Please talk with your manager and reach out to staffdev@louisville.edu if there are any questions about your eligibility. We will do our best to match all applicants, but selection is not guaranteed.
University of Louisville is relaunching the mentoring program, Mentoring for Success, in 2020. Learn more >>