Professional Development
The University of Louisville is committed to providing tools and information that lead to measurable performance improvement, increased job satisfaction, personal development, and positive morale for faculty and staff.  Every semester, Human Resources offers professional development programs that are free to any employee.  See the descriptions below and click "REGISTER" to sign-up and attend.  E-mail staffdev@louisville.edu with any questions.
HR's Office for Employee Development and Success is here to support your commitment to ongoing learning and growth, even while you are working remotely. Sharpening your professional skills does not have to wait for your return to campus, so we have compiled some quality online learning resources (mostly free of charge) that you can access now. Check back often for updates and new ideas. We will continue adding new resources to the list as we identify them and welcome any suggestions you think our employees would find helpful. Contact us at staffdev@louisville.edu.
---
HR's Employee Development and Success office is launching a new series called Learning Cafes, online sessions focused on continuing your professional and personal growth while working at home. Each one features a topic of interest, guidance from a seasoned moderator, an engaging activity or reading, and time for discussion and sharing to renew your connection to the UofL family.
---
The Employee Development and Success Office has launched several coaching circles for faculty and staff to convene around a topic of interest.
What is a Coaching Circle?
Coaching circles are organized groups of university faculty and staff who come together around a common topic.  Unlike a typical workshop, a learning circle is focused on support and real-world conversation about challenges university faculty/staff are facing.  In a coaching circle, the members actively guide the direction of the discussion and learning.
 Why join a coaching circle?  The benefits include:
A network of supportive peers you can call upon for support, encouragement, and input (a "community of care," as the Cardinal Principles describe). https://louisville.edu/about
A focus on the event planning concerns you are facing and deeper exploration of how to address them effectively.
Time for listening, asking good questions, and reflecting that helps every member discover their own answers and celebrates the expertise that each person brings to the conversation.
---
Recognizing that children, partners, pets and other loved ones are our new co-workers in this time of working remotely, the Employee Development and Success Office is launching a new series for employees and those with whom they are sharing their remote workspaces.  In each session, a university leader will read their favorite children's book and might include their loved ones who want to join along.  You can follow along on your computer screen as we share an e-version of the book or even pull out your hard copy if you have one.  The focus is on building our "community of care" and expanding it to include those we love (especially young ones, but also the young at heart) and have brought into our work lives by quarantining at home.
---
Professional Development Sessions
---
---
Facilitated by Kristia Worthy, Director of Talent Development, Athletics Administration
May 4th from 1:00pm - 2:00pm on MS Teams, register here.
There are many factors that contribute to the effectiveness of an organization, unit, or team. Actively investing in opportunities that build trust, mitigate conflict, and encourage communication and collaboration positively impacts employee engagement and performance. During this workshop, participants will explore various team building activities that promote inclusion in the workplace and the influence that it has on making UofL a great place to work.
---
Facilitated by Susan McKellep, EAP
May 8th from 11:00am - 12:30pm on MS Teams, register here.
Most of us struggle to maintain a balance between work, family and our own personal needs. Participants will learn to identify areas of priority in their lives and explore how to distribute their time and energy accordingly. This interactive workshop addresses how to delegate the less important tasks, as well as how to graciously say "no", when necessary. While achieving balance can initially require some mindfulness and resolve, it inevitably results in a simpler way of life. 
---
Facilitated by Susan McKellep, EAP
May 12th from 10:30am - 12:00pm on MS Teams, register here.
Has creativity plunged to an unprecedented low in your department? Does it appear that inspiration and imagination have disappeared from what once was an enthusiastic environment? Attendees of this workshop will learn skills such as overcoming procrastination, filtering negative and cynical thoughts and, yes, even leaving the proverbial "comfort zone". Discovering what keeps them motivated and how to maintain and nurture that drive, participants will invariably improve productivity, both at work and in other settings.
---
Stress Management
Facilitated by Susan McKellep, EAP
May 18th from 1:00pm - 2:30pm on MS Teams, register here.
Every day of our lives we face events that cause us stress. Although most of these events are minor in the grand scheme of life, there are situations that clearly can be considered major sources of stress. Chronic pressure can have a detrimental effect on everything from your employee's health and relationships to their work performance and professional behavior. This workshop is designed to help your employees gain valuable strategies to manage their emotions and cope more effectively with high-pressure situations. 
---
Facilitated by Kristia Worthy, Director of Talent Development, Athletics Administration
May 20th from 10:00am - 11:00am on MS Teams, register here.
Maintaining a positive relationship with your supervisor is essential for career success and organizational effectiveness.  "Managing Up" refers to doing whatever you can to make your supervisor's job easier. In essence, it is managing your manager and can assist in your professional development. But what does that look like? In this presentation, participants will learn the ins and out on effectively managing up and strategies to implement in the workplace. 
---
Facilitated by Susan McKellep, EAP
May 26th from 12:00pm - 1:30pm on MS Teams, register here.
Those who have a greater understanding and sense of emotional well-being make better employees and leaders. This workshop provides a holistic view of all the elements of a person's life and encourages them to explore their level of satisfaction. Participants will pinpoint areas of focus to increase their sense of emotional well-being in addition to exploring ideas to incorporate ease and grace into their lives.
---
Facilitated by Dr. Cynthia Ganote, Assistant Dean for Diversity and Community Engagement, College of Arts & Sciences
June 4th from 11:00am - 12:30pm on Blackboard Collaborate, register here.
Whether an observer of, the target of, or the unintentional perpetrator of microaggressions, we often don't know how to respond to them in the moment. This session will offer participants an understanding of microaggressions and their impacts on students and colleagues, along with microresistance strategies to use when they occur. The goal of the workshop is for participants to feel more comfortable responding to microaggressions with microresistance. Employing microresistance to counter microaggressions can not only contribute to individual well-being, but also serve as one part of a systemic approach to transforming oppression on our campuses.
---
Other opportunities to engage in making UofL a Great Place to Work
Staff Fellowships, CLOSED
What is a staff fellowship? In this context, they are short-term learning opportunities that place you in a setting where you can learn new skills or explore other careers at the university. In the 2020 pilot, a staff fellowship will consist of matching you with a university department or program, creating a plan that includes specific activities to be completed, and identifying an advisor to guide and support your experience. A fellowship will generally consist of 10 to 20 days that could be done all at once or incrementally, depending on the nature of the work to be done onsite and your responsibilities in your home department.
The ideal participant is a UofL staff member who wants to grow professionally and learn about another facet of the university.

While there are many benefits to participating, the completion of a fellowship does not include the promise of a new position or a salary increase. Rather, it provides participants with new skills that can be leveraged in a job search and reflected on a resume, and exposure to a network of colleagues and experts who can be advocates.

Eligibility
-Any UofL staff member, exempt or nonexempt, with at least two years of service;
-The participant must show consistent performance appraisal review ratings of "Meets expectations" or higher;
-Demonstrated enthusiasm for continued career growth and support of the university's vision.

To complete your application, you must submit this form and the following:
-Letter of Interest to staffdev@louisville.edu 
-Letter of Support from your supervisor to staffdev@louisville.edu 
---
Mentoring for Success Program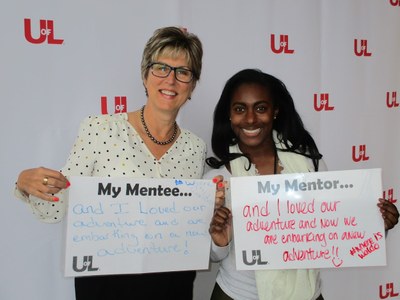 Applications are currently closed, they will reopen January 2021.
Who can participate?
Mentors:
Potential mentors can be any UofL faculty, staff member, or retirees who have been an employee of the university for at least two years. Depending on their role, potential mentors may need to seek manager approval prior to participation. 
Mentees:
Potential mentees can be any UofL faculty or staff member who has been an employee of the university for at least one year. We also strongly encourage employees who hold marginalized identities (women, people of color, LGBTQ, etc.) to apply in support of the university's focus on "celebrating diversity, fostering equity, and striving for inclusion."  Regardless of role, mentees will need to seek permission from their managers prior to participation. Please talk with your manager and reach out to staffdev@louisville.edu if there are any questions about your eligibility. We will do our best to match all applicants, but selection is not guaranteed.
University of Louisville is relaunching the mentoring program, Mentoring for Success, in 2020. Learn more >>