Books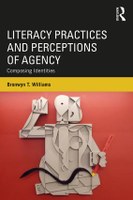 This book explores how perceptions of agency—whether a person perceives and feels able to read and write successfully in a given context—are critical in terms of how people perform their literate identities. Drawing on interviews and observations with students in several countries, he examines the intersections of the social and the personal in relation to how and, crucially, why people engage successfully or struggle painfully in literacy practices and what factors and forces they regard as enabling or constraining their actions. Recognizing such moments and patterns can help teachers and researchers rethink their approaches to teaching to facilitate students' sense of agency as writers and readers. Literacy Practices and Perceptions of Agency: Composing Identities.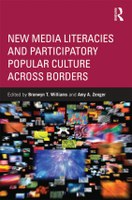 How do students' online literacy practices intersect with online popular culture? In this book scholars from a range of countries including Australia, Lebanon, Nepal, Qatar, South Africa, Turkey, and the United States illustrate and analyze how literacy practices that are mediated through and influenced by popular culture create both opportunities and tensions for secondary and university students. The authors examine issues of theory, identity, and pedagogy as they address participatory popular culture sites such as fan forums, video, blogs, social networking sites, anime, memes, and comics and graphic novels. Uniquely bringing together scholarship about online literacy practices and the growing body of work on participatory popular culture, New Media Literacies and Participatory Popular Culture across Borders makes distinctive contributions to an emerging field of study, pushing forward scholarship about literacy and identity in cross-cultural situations and advancing important conversations about issues of global flows and local responses to popular culture.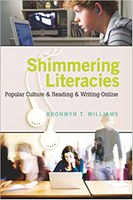 This book examines the powerful role of popular culture in the daily online literacy practices of young people. Whether as subject matter, discourse, or through rhetorical patterns, popular culture dominates both the form and the content of online reading and writing. In order to understand not only how but why online technologies have changed literacy and popular culture practices, this book looks at online participatory popular culture from Facebook pages to fan forums to fan fiction. Interviews and observations reveal the skills and practices students develop, as they sit multitasking at their computers, across popular culture genres and electronic media. For educators, the book provides significant insights into popular culture literacy practices, thus illuminating how students are making meaning and performing identity every day as they read and write online. Shimmering Literacies: Popular Culture and Reading and Writing Online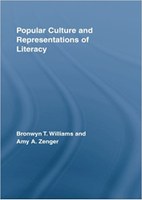 This book addresses how everyday literacy practices are represented in popular culture, specifically in mainstream, widely-distributed contemporary movies. If we watch films carefully for who reads and writes, in what settings, and for what social goals, we can see a reflection of the dominant functions and perceptions that shape our conceptions of literacy in our culture. Such perceptions influence public and political debates about literacy instruction, teachers' expectations of what will happen in their classrooms, and student's ideas about what reading and writing should be. Popular Culture and Representations of Literacy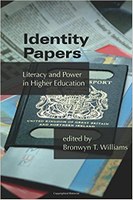 How do definitions of literacy in the academy, and the pedagogies that reinforce such definitions, influence and shape our identities as teachers, scholars, and students? The contributors gathered here reflect on those moments when the dominant cultural and institutional definitions of our identities conflict with our other identities, shaped by class, race, gender, sexual orientation, location, or other cultural factors.These writers explore the struggle, identify the sources of conflict, and discuss how they respond personally to such tensions in their scholarship, teaching, and administration. They also illustrate how writing helps them and their students compose alternative identities that may allow the connection of professional identities with internal desires and senses of self. They emphasize how identity comes into play in education and literacy and how institutional and cultural power is reinforced in the pedagogies and values of the writing classroom and writing profession.Identity Papers: Literacy and Power in Higher Education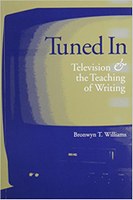 There's no denying that television is a forceful presence in students' lives. Yet in writing classrooms the assumption is often that television is only an obstacle to teaching critical print literacy. Little careful attention has been paid to exactly how television influences the ways in which students write, or how their experiences with television might be used to help them write more effectively. In this book I argue that television is a powerful influence that is always present in the writing classroom, even if it is not acknowledged by either teachers or students. Through interviews with students and observations of their television viewing and print reading I have found that the rhetorical skills students develop that allow them to "read" televised communication fluently, and even critically, and can be used in a writing class to explore the same concepts in print, such as narrative form, audience, plot, and irony.Teachers can harness these skills to influence the ways students perceive and engage in writing and reading from the first day of a composition course. Chapters in the book are followed by "classroom practice" interchapters which offer practical suggestions to help teachers use students' existing television literacies to achieve a more complex, nuanced, and critical literacy in print. Tuned In: Television and the Teaching of Writing.