UofL School of Dentistry team selected as winner of International Team for Implantology award
Dr. Wei-Shao Lin
Congratulations to Dr. Wei-Shao Lin, in collaboration with senior faculty mentor Dr. Dean Morton, winners of the International Team for Implantology research competition award in the oral presentation category. More than 300 abstracts were submitted and peer-reviewed, with only eight being selected and invited to present as part of the main program at the ITI World Symposium held in April of 2014 in Geneva, Switzerland.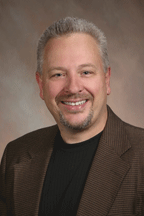 Dr. Dean Morton
The research stems from an ITI grant awarded to Lin and Morton in 2011 entitled "Accuracy of Definitive Casts Resulted from Conventional and Digital Implant Level Impressions: An In Vitro Comparative Study." The team completed their research in 2013, prior to submitting their results for consideration in the ITI research competition. The International Team for Implantology (ITI) is a non-profit foundation dedicated to the dissemination of knowledge on all aspects of implant dentistry and related tissue regeneration through education and research to the benefit of the patient.
The honor recognizes the expertise of UofL School of Dentistry Department of Oral Health & Rehabilitation faculty as they develop new knowledge in the area of contemporary procedures and dental implants.