Facilities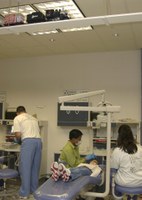 The orthodontic and pediatric clinics are located on the 3rd Floor of the UofL School of Dentistry.
We utilize state of the art equipment to ensure the highest level of care for our patients.
The postdoctoral Pediatric Dental Clinic includes six quiet rooms. It was recently renovated with up-to-date units, and built-in oxide and digital radiography. The clinic is self-sufficient in maintaining separate supplies and instruments. A biolaser and diode lasers are available for resident use. A separate sedation room is designated for all resident sedation cases.
The orthodontic clinics were also recently updated with new chairs, lights, cabinetry and touch-screen computer terminals.
ULSD clinics also use Electronic Health Records - paperless records - which allow for greater efficiency in patient care.