Environmental Justice and Mill Creek Watershed Planning
Tony Arnold
University of Louisville Resilience Justice Project

In 2022-2024, people in southwestern Louisville have opportunities to participate in watershed planning for the Mill Creek watershed, led by the Louisville/Jefferson County Metropolitan Sewer District (MSD) and a group of community, environmental, and government partners. The plan will aim to improve water quality & environmental conditions in the Mill Creek watershed.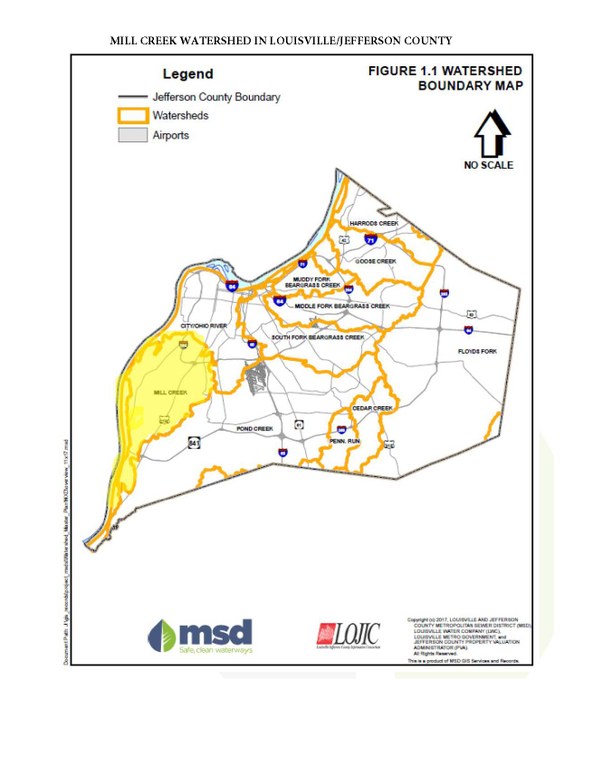 The Mill Creek watershed is a 34-square-mile area of land in southwestern Louisville, which drains to Mill Creek & then into the Ohio River. A "watershed" is an area of land that drains to a common body of water.
The Mill Creek watershed is home to many diverse neighborhoods, including parts or all of Cloverleaf, Hazelwood, Iroquois, Jacobs, Pleasure Ridge Park, Riverport, Rubbertown (southern part), Shively, Southwest Dixie, St. Andrews, Valley Station, Heatherfield, Hunters Trace, Parkwood, St. Denis, Riverside Gardens, Valley Village, Meadow Lawn, Valley Downs, Sylvania, Greenwood, and Waverly Hills.
A number of these neighborhoods are considered to have high levels of social vulnerability because of relatively low income and education levels, relatively high unemployment rates, relatively low home-ownership rates, relatively high concentrations of residents of color, and other conditions. These neighborhoods are mostly in the northern or upper portions of the watershed, including Jacobs, Shively, Hazelwood, Rubbertown, and Iroquois.
The Mill Creek watershed and its communities face many environmental justice issues.
Water pollution, urban runoff, and flooding are issues. Mill Creek and its feeder streams have been heavily altered or re-engineered, including being straightened/channelized, re-routed, degraded, and affected by pump stations. Much of the land that drains to Mill Creek has been paved, which has created stormwater runoff and flooding problems. Water quality in Mill Creek is fair to poor: significant pollution from nutrients, sediment, and bacteria; degraded habitat for species; loss of natural wetlands; and deterioration of riparian buffers (lands alongside the streams).
 Many of the neighborhoods in the Mill Creek watershed are disproportionately harmed by pollution and other environmental burdens, including from:
two large industrial areas: Rubbertown and Riverport;
two LG&E power-plant facilities: Cane Run and Mill Creek;
the Lee's Lane landfill, a major Superfund (contaminated) site near the Riverside Gardens neighborhood;
Dixie Highway, with its dense development, congested traffic, and extensive paved areas.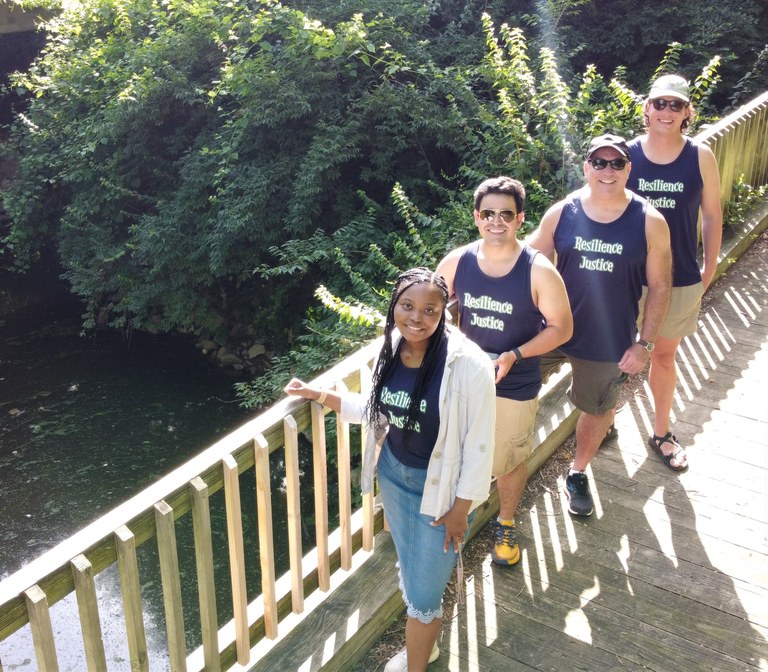 Data on the distribution of environmental and health harms throughout the Louisville area show that areas within the Mill Creek watershed have high incidence of
toxic chemical releases,
toxic air pollution,
cancer death rates,
asthma risk,
urban heat island effects,
lesser tree-canopy coverage, and
heat-related deaths.
The University of Louisville Resilience Justice Project is contributing to Mill Creek watershed planning in 4 ways:
Mill Creek Watershed Planning Environmental Justice and Resilience Justice Frameworks. The RJ Project has identified ways of integrating environmental justice, resilience justice, and inclusive community engagement into Mill Creek watershed planning, based on research-supported best practices. Environmental justice is about fairness in environmental conditions and policies. Resilience justice is about fairness in neighborhoods' capacities to adapt to shocks and changes. Inclusive community engagement is about proactively involving diverse and under-represented community members in planning and governance.
The Mill Creek Watershed and Community Environmental Justice Audit. The RJ Project has done an environmental justice audit that identifies inequalities in environmental and community conditions, especially for low-income neighborhoods of color;
The Mill Creek Community Study. The RJ Project is conducting in-depth interviews with as many community members as possible to hear their perspectives about their environmental and community conditions and needs in their own words. This study seeks to inclusively engage community members in the watershed planning process. Anyone who is interested in learning more about the Mill Creek Community Study and how to participate is invited to visit the study's webpage:https://louisville.edu/law/resiliencejustice/mill-creek.
Policy Analyses and Recommendations. The RJ Project will analyze public policies using a resilience justice framework to identify possible policy changes, such as to prevent gentrification & displacement of vulnerable community residents and to transform environmental and community conditions in ways that would improve fairness & community resilience.


About the Author
Craig Anthony (Tony) Arnold is the Boehl Chair in Property and Land Use, Professor of Law, Affiliated Professor of Urban and Public Affairs, and Director of the interdisciplinary Resilience Justice Project at the University of Louisville.