Horner Bird and Wildlife Sanctuary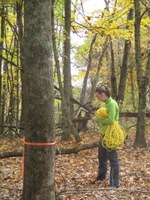 The Horner Bird and Wildlife Sanctuary is an 85-hectare reserve owned by the University of Louisville near Crestwood, Kentucky. It is located in the Interior Plateau Ecoregion. The site is a former farm that was abandoned about 55 years ago and has since been allowed to regenerate as eastern deciduous forest. Two permanent streams and two ponds occur on the property, and maples, oaks and hickories dominate the secondary growth forest.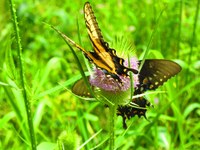 Horner is principally used for student research and serves as a reference site for scientific comparison with more urban woodlands and parks. The best-known public education project is the annual Horner Butterfly Count conducted by emeritus professor Charles Covell. Each year since 1976, roughly 50 people, including schoolchildren and senior citizens, have participated in surveys of butterfly populations at the site, building a long-term picture of changes in butterfly diversity. The results are reported to the North American Butterfly Association, which monitors the changes in butterfly populations throughout the continent.
Apart from its use for biological research activities, the university maintains an astronomical observatory on the site, which includes one permanent building, a small parking area, two small outbuildings, and a single principal access road (a gated gravel track). Site security is maintained via informal agreements with nearby landowners.
The Horner Bird and Wildlife Sanctuary is part of the Kentucky Organization of Field Stations (KOFS), a network that supports and promotes understanding of natural systems through education, research, and outreach in Kentucky.