The Impact
The prospect of the University of Louisville College of Arts & Sciences building on our relationship with Portland and West Louisville has the potential for a tremendous positive impact on our university and our community.
Impact on our University
For a research university, it is important that faculty and students have adequate creative studio space in which to be productive. Since the UofL Fine Arts program is outgrowing its current studio space on the Belknap campus, a new Fine Arts building has been on UofL's priority list with the State for over a decade.
Research universities are often evaluated by the advanced degrees they offer. Even though the department has a history of nearly 80 years it is only now that we have begun the MFA program. We need this space for our students, especially because we want to be able to grow this program, attract the best art graduates from our region, and add to the cultural enrichment of our city—a hallmark of Louisville—and strong reason that the city garners such positive national attention.
The Fine Arts faculty, with their recognized creative output, cutting-edge artistry, and several new hires have already ushered in a renaissance of sorts. The new studio space will allow this trajectory to continue
Finally, we are wildly enthusiastic about this space, and this location. You'll see when you tour how perfect the open layout and expansive natural light is for studio artists. There will be exhibition and meeting space, so our art history and curatorial studies faculty will feel at home here too.
Dean Leonard's statement from a presentation in 2017: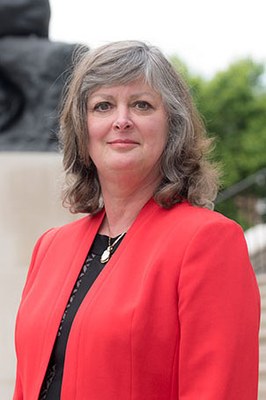 "We are so thrilled to be creating a new space for our MFA in Studio Art & Design program. Our MFA program will have state of the art studios which will allow us to build upon our already exceptionally strong fine arts programs. To add to the excitement, the new space will be on Rowan Street in the historic Portland neighborhood. The location will not only provide MFA students and our studio art faculty members with a creative home, but it will give our University a presence in West Louisville. So, this is not just about a new space for us. It's about giving our faculty and students a way to infuse community into their art and art into the community."
~ Kimberly Kempf-Leonard, Dean, College of Arts & Sciences
Impact on the Community
The new location in West Louisville provides our programs with a new outlet beyond the Belknap campus. The Cressman Center has been very successful in helping us draw in the downtown community. Now, the Portland neighborhood will enable us to advance our mission actually to engage the community in new and desirable ways. We will bring art and art education into the city by inviting our neighbors into our space, and also take our art and art education into the neighborhood.
We are excited about partnership opportunities: with public schools in the area, existing and new West Louisville Signature Partnership organizations, the Habitat for Humanity, Louisville Visual Arts, and the Portland Now neighborhood association. Many articles have highlighted not only the 9th street divide but also the racial division in Louisville creative community; we are eager to help bridge and work to erase these divisions.