About the Project
A recently renovated space at 1606 Rowan Street in the Portland neighborhood of Louisville is the new home for UofLs Hite Art Institute's MFA program and the Department of Anthropology's archaeology program. The facility provides students and faculty with state-of-the-art studio and lab space. Additionally, this growth gives UofL's College of Arts & Sciences a campus presence in a community where revitalization efforts are underway and will further the University's commitment to the third pillar of its mission:
"...providing engaged service and outreach that improve the quality of life for local and global communities."
The University of Louisville Foundation is leasing 27,000 square feet, which is about a third of the vacant two-story brick building at 1606 Rowan St., for 10 years from Rowan Downstream LLC. Interior renovations completely revamped the first floor and second-floor mezzanine of the old building. The 1880s building formerly served as a floor-covering distribution business, storage warehouse and a senior nutrition center, among other uses.
See photos of the development concepts and progress:
Photo Gallery Giving Opportunities
Our Partners
Rowan Downstream's partners include Gill Holland, a developer noted for leading revitalization efforts in Louisville's NuLu and Portland neighborhoods. Other Rowan partners are Jacob Brown and Justin Brown, both of The Marian Group, Chad Middendorf, Ashley Blacketer, Gregg Rochman, Matt Gilles and Jonathan Bevan.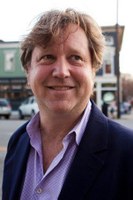 "Bringing the University of Louisville's Archaeology Labs and classrooms to Portland—the historic home of this city—into space immediately adjacent to the University's MFA studios, demonstrates the commitment of our state's leading institution of higher education to broad community engagement."
~ Gill Holland, Founder, Portland Investment Initiative