SPHIS Accolades
FACULTY AWARDS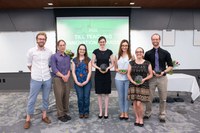 David Johnson, PhD, MPH, CPH, assistant professor, Dept. of Health Management and Systems Sciences, was awarded the 2022 TILL Teaching Innovation Award presented by the Delphi Center for Teaching and Learning. This annual award honors the UofL's outstanding faculty who demonstrate a commitment to student engagement and learning through their work on one or more innovative teaching practices. Award winners will be recognized for their achievements in teaching innovation at an upcoming reception, will receive a $1,000 cash award and be invited to share their work in a dedicated session at the 2023 Celebration of Teaching and Learning. Read more
---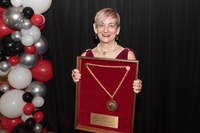 Anne Wallis, MHS, PhD, associate professor, Dept. of Epidemiology and Population Health, received the Distinguished Faculty Award for National/International Service. Annually, UofL honors faculty who bring distinction to the university through their commitment to the areas of service, teaching, and outstanding scholarship, research, and creative activity. Dr. Wallis was nominated by several colleagues.
Rick Baumgartner, PhD, professor and chair, Dept. of Epidemiology and Population Health, said, "It was clear in Dr. Wallis' nomination that she is a highly valued faculty member at UofL, and we are happy to recognize her for her hard work."
Dr. Wallis was honored at the Faculty and Staff Excellence Awards Reception on April 18. She received an academic medallion and a cash award.
---
STUDENT & RECENT GRADUATE AWARDS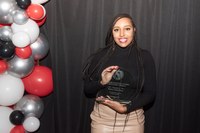 Riece Hamilton, MS, doctoral student in the Dept. of Health Promotion and Behavioral Sciences, was named a Climate and Equity Champion by UofL's Commission on the Status of Women (COSW).  Hamilton leads the Office of Health Promotion, a division of Campus Health, serves as a COSW commissioner and campus/climate chair, and is the President of the Black Faculty/Staff Association.
---
Carmen Mitchell, PhD(c), Dept. of Health Management & Systems Sciences, was awarded the 2022 American Society of Health Economists (ASHEcon) Diversity Scholarship. ASHEcon presented 20 scholarships to underrepresented minorities and/or individuals who had to overcome substantial life obstacles in order to help increase diversity in health economics.
Recipients are invited to attend the annual ASHEcon conference, where they will be recognized for their accomplishments by the ASHEcon Board and Diversity Committee.
 Click to see a complete list of 2022 SPHIS graduation honors and awards recipients