HIV Monologues
When
Feb 09, 2018
from

06:30 PM

to

08:30 PM

Where

Hotel Louisville

Contact Name
Jelani Kerr
Add event to calendar

vCal




iCal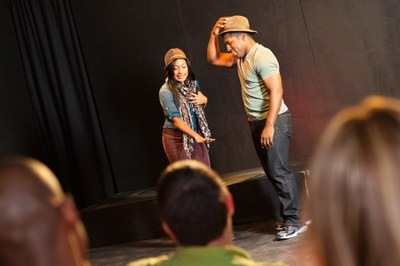 Join us for hors d'oeuvres and an awesome evening of fellowship at the annual Heart of the Matter event at Hotel Louisville: 120 W. Broadway, Louisville, KY, on Feb. 9. Entertainment includes: HIV Monologues and music from Louisville's own, Brother Troy Bell, along with other talented musicians and rap artists.
Stigma is one of the biggest challenges when trying to fight HIV. It not only impairs quality of life for people who are living with HIV, but it also keeps a lot of people from testing and getting treatment. We are always trying to find effective ways to reduce stigma and reinforce the idea that the HIV epidemic is something we all work together to address. One of the ways that we can do this is by using art to let us know about the experiences of people who are living with HIV.
Thus, faculty members from SPHIS, Nursing, and Social Work as well as the House of Ruth (an AIDS service organization that provides housing and support to people affected by HIV) came together to document the experiences of people who are living with HIV and re-story these experiences into monologues that will be performed for the public for the National Black HIV/AIDS Awareness Day. We are hoping that these monologues will not only entertain, but also shed light on what life is like with HIV and the resilience of the individuals who are living with it.
The event is an outgrowth of a UofL Cooperative Consortium for Transdisciplinary Social Justice Research (CCTSJR) initiative that worked with actors and a group of older HIV positive African Americans to develop monologues focusing on the experiences of the HIV positive. 
The CCTSJR is a new UofL initiative to fund research projects that bring together teams of people from fields who may not normally work together and help address issues of importance for disadvantaged groups. The logic is that when people with different types of expertise come together, it can bring more tools and collaborative ideas to help solve some of the difficult challenges that we encounter when trying to conduct research with real-world impact.

Admission is free.
Read more about the initiative.