Bryan Mathis, M.Ed.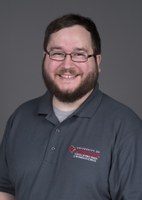 SPHIS Administration 
Program Coordinator Senior
485 E Gray St., Room 013
Louisville, KY 40202
Phone: 502-852-6263
Fax: 502-852-3291
bryan.mathis@louisville.edu
Office Hours: 9:00 a.m. - 5:00 p.m.

Bryan Mathis is a Louisville native. Living most of his life in Louisville, he completed his undergraduate degree at Murray State University in 2013 in Southwest Kentucky. Bryan returned back to Louisville for graduate school at the University of Louisville and graduated with a Master of Education in Counseling and Personnel Services with a concentration in College Student Personnel in 2016. During his graduate program, Bryan served as a Graduate Assistant for Campus Housing at UofL. After completing his master's degree, Bryan moved to Evansville Indiana and worked for the University of Southern Indiana's Housing and Residence Life department as an Area Coordinator, supervising Resident Assistants and overseeing a freshmen residential community. In 2019 he returned back to Louisville and is serving as the Program Coordinator for the School of Public Health and Information Sciences. Bryan has a sassy cat named Cali Rose, make sure to ask him how she is doing!