Oct. 6 - R!L Keynote Address and Awards Ceremony
R!L keynote/awards ceremony
When
Oct 06, 2023
from

01:00 PM

to

02:45 PM

Where

CTR 101/102

Contact Name
Bonnie G. Dean
Contact Phone

502-550-3928

Attendees

faculty, staff, students, research fellows, community



Add event to calendar

vCal




iCal
Closing ceremonies for R!L 2023 will take place Friday, Oct. 6
1:00 p.m. Welcome and keynote address, K4KCTRB, 101/102, HSC Campus - 2:10 p.m. Awards Ceremony (reception to follow)
Keynote Speaker: Rick Woychik, Ph.D., director of the National Institute of Environmental Health Sciences and National Toxicology Program
Lecture title: "Looking to the Future of Environmental Health Sciences" 
With Dr. Rick Woychik as Director, NIEHS research is reshaping our understanding of how the environment impacts human health in order to promote healthier lives. In this presentation, Dr. Woychik will address future research strategies for environmental health sciences, including the groundbreaking concept of exposomics, where cutting-edge technology unravels the totality of an individual's lifetime exposures. His talk will also explore the innovative landscape of precision environmental health, where personalized interventions based on individual exposures and genetics are revolutionizing strategies for tackling health challenges. In addition, he will speak to the critical intersection of climate change and health, and the pressing need for collaborative actions to mitigate risks and foster resilient communities. In conclusion, he will highlight environmental justice activities across NIEHS and emphasize the importance of future research strategies aiming to reduce environmental health disparities.
TO ATTEND VIA ZOOM, PLEASE CLICK ON THE LINK BELOW:
https://sway.office.com/jXVIldktEtHvuTtI?ref=Link
Richard P. Woychik, Ph.D.
Biosketch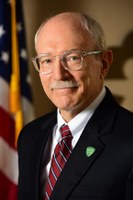 Dr. Rick Woychik was named Director of the National Institute of Environmental Health Sciences and the National Toxicology Program on June 7, 2020, after serving as Deputy Director since 2011. He is a molecular geneticist with a Ph.D. in molecular biology from Case Western Reserve University and postdoctoral training with Dr. Philip Leder at Harvard Medical School. He spent almost 10 years at Oak Ridge National Laboratory rising in the ranks to become head of the Mammalian Genetics Section and then director of the Office of Functional Genomics. In August 1997, he assumed the role of vice chairman for research and professor in the Department of Pediatrics at Case Western Reserve University. In 1998, he moved to the San Francisco Bay area, first as the head of the Parke Davis Laboratory for Molecular Genetics and then as chief scientific officer at Lynx Therapeutics. He returned to academics as the president and CEO of The Jackson Laboratory in August 2002 and served in that role until January 2011.