Student Opportunities
Research Volunteer Opportunities for Students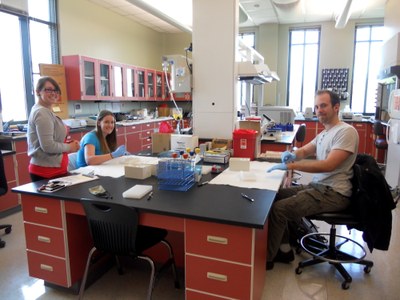 Mindfulness and Biobehavioral Health Research Group
Dr. Sephton's Research Group is accepting applications for a undergraduate research position. We seek a highly motivated, detail oriented student who is interested in mindfulness meditation and biobehavioral cancer research. The student will assist with preparation of materials, data collection, and data entry in one of two ongoing studies:
A Dyadic Mindfulness Intervention for College Students and their Roommates – Mechanisms and Health Effects
College freshmen face many social challenges: leaving their family support structure behind, creating new social networks, and negotiating new relationships with roommates. Social stress is compounded by academic and financial concerns and can lead to poor academic performance, dropout, and decrements in mental and physical health. Many students employ ineffectual stress-management strategies, such as using substances or reducing time allocated to rest and sleep.8 Mindfulness-based stress reduction (MBSR),9 and an emerging form of mindfulness specifically for young adults, termed Koru (a Māori word connoting balanced growth), have found a receptive audience10 and received empirical support11 in terms of stress reduction and improvements in mental and physical health. The mechanisms of these benefits are unknown but could include changes in neural and cognitive function, diminished neuroendocrine stress responses, and improved behavioral activity patterns. Mindfulness may be particularly well-suited for therapeutic use in relational contexts. Mindfulness training could foster social well-being and increase connectedness among college roommate dyads. However, no research has explored the possible benefits of mindfulness in this context. This study will:
• Test a mindfulness intervention among undergraduate student/roommate dyads.
• Explore neural, cognitive, autonomic and circadian pathways by which mindfulness practice might lead to healthier levels of distress, well-being, and physical health in college undergraduates.
• Explore the dyadic effects of mindfulness intervention in pairs of college roommates.
Understanding the Prognostic Significance of Circadian Disruption in Lung Cancer
The emotional and physical losses imposed by this disease are often devastating, and lung cancer patients may experience more distress than those with many other cancer types. Distress can lead to disrupted sleep and circadian rhythms, which can impair physiological cancer defenses. Our research group recently demonstrated circadian disruption predicts early mortality in lung cancer. The current study is exploring factors contributing to disrupted rhythms in these patients including distress, sleep-wake cycles, hormonal rhythms and immune/inflammatory factors. We are also piloting a distress-reducing psychosocial intervention based on mindfulness meditation, in which participants join a support group and are provided iPods with audio recordings aimed at increasing lung cancer coping using mindfulness training. We seek assistance with preparing study materials, collecting data from participants, and entering/managing the data.
For more information about our research lab, go to: http://louisville.edu/psychology/sephton/biobehavioral
Our lab requires a 10 hour per week, two semester commitment in the context of fulfilling requirements for PSYCH 401 (Research Psychology). The student will be expected to meet weekly with the research team and be available for other meetings, but a portion of the work hours will be flexible. Successful applicants will have strong academic and practical skills and excellent communication abilities.
How to apply: To apply, please email a letter of introduction detailing your relevant background and interests, current GPA, and psychology, biology, or related coursework to:  sephton@louisville.edu.
Contact: Sandra Sephton sephton@louisville.edu.