Mindfulness and Biobehavioral Health Research Laboratory
The Mindfulness and Biobehavioral Health Research Laboratory provides research training for students in the Clinical Psychology Doctoral Program University of Louisville.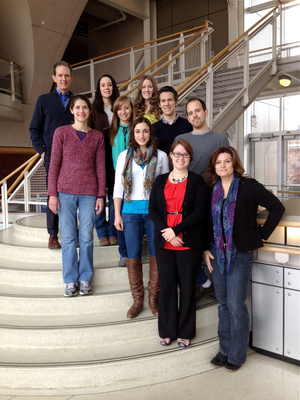 The lab is codirected by Paul Salmon, Ph.D., a licensed clinical psychologist; and by Sandie Sephton, Ph.D., a behavioral neuroscientist. The unique pairing of skills and experience offered by these mentors allows students excellent training in clinical applications of mindfulness as well as a depth of scholarship regarding biological mediators of the health effects of mindfulness-based practice. Our yoga and meditation space is located just across the hall from our wet lab, and graduate student offices are sandwiched between those of our professors. Lab meetings are attended weekly by both directors, graduate, and undergraduate students. Students select either Dr. Salmon or Dr. Sephton as their primary mentor, but have the option of collaboration and advising from both. Former graduate students have gone on to outstanding internship and postdoctoral opportunities in both clinical and research related careers. We work as a multi-disciplinary collaborative team and maintain an open and relaxed laboratory environment.
We welcome inquiries from prospective graduate students!
For more information and links to apply:
Dept. of Psychological & Brain Sciences - Clinical Psychology Program (click here)