HSC Campus kicks off first LGBT Ally Campaign
UofL is ranked among the "Best of the Best" for its LGBTQ inclusiveness and is one of only 16 schools in the nation to earn five out of five stars in the Campus Pride Index by the organization Campus Pride. 
A number of initiatives contribute to these accolades, including the LGBT Center's Safe Zone Training to provide faculty and staff tools and resources they need to understand LGBT students and create a welcoming, affirming campus environment for all.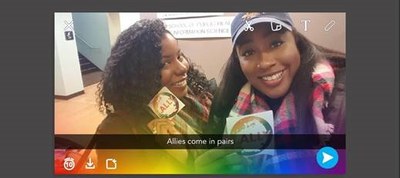 The effort is being amplified into an Ally Campaign, officially launching this week. The campaign comes on the heels of a study conducted last year to gauge the climate for LGBTQ people on the HSC campus.  
"One of the biggest themes that came out of that study is that LGBT people said they were hesitant to come out and that they didn't know who their allies were," said Chaz Briscoe, program coordinator senior for the LGBT's HSC satellite office.
Briscoe notes that while UofL is an LGBT-friendly campus, staff, faculty and students are often reluctant to come out because they don;t know who to trust. This campaign is a way to make their working environment more comfortable.
"We want allies to make it known and say out loud. 'you can trust me.' Our goal is to help people identify who and where their safe spaces are," Briscoe said.
The campaign will launch with email messaging featuring Snapchat-inspired selfies of all four HSC deans- T. Gerard Bradley (Dentistry), Marcia Hern (Nursing), Toni Ganzel (Medicine) and Craig Blakely (SPHIS), as well as faculty and students displaying their ally stickers.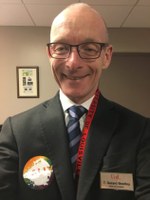 "It was important to get the deans to do this for us. That institutional buy-in allows this ship to launch. When you have support from the ground up, it lends itself more credibly," Briscoe said. The photos include captions such as:
"I show up as an ally by proudly showing my pride"
"Being an ally means letting others know i'm an ally"
"Allies make you feel like you belong!"
"Be an ally, join HSC Pride"
These photos are part of a broader social media campaign that is a component of the initiative. Allies are asked to take a selfie and post it to Instagram or Facebook using the hashtag #HSCAlly
Other ways to get involved include:
Ally sticker for your office or educational spaces
Rainbow sticker for clinical spaces
Rainbow pin to wear on your lapel or lab coat wherever you go
Briscoe said this campaign will run indefinitely and the office hopes to continue adding more layers, including panel discussions and lectures. More information about the Ally Campaign is available by contacting the LGBT Center on the HSC campus.  
Reprinted with permission from UofL Today