Commitment to Community in Programming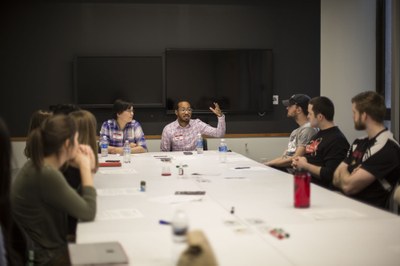 LGBT Center and Programming: Principles and Guidelines
The LGBT Center provides educational programming on LGBTQ topics to many groups within UofL, such as classrooms and health clinics. A key educational strategy is to engage students, staff, faculty and community members to share first-person stories about their identities and experiences. Participants in our trainings very often cite these stories as the most powerful avenue for personal growth and change as allies. Speakers at these trainings enjoy having the opportunity to personally and positively impact leaders and organizations locally, particularly as they relate to healthcare.
We acknowledge that being a speaker on these subjects requires vulnerability and effort on the part of our speakers. To honor your efforts, we have developed the following guidelines:
Community members

You will be offered $12 an hour towards your time in speaker trainings and delivering educational programs. You may also choose to donate your time if you prefer. In appreciation of your efforts, you will be offered free parking and we will attempt to provide a meal if the events are taking place over a meal time.
 Pay

Payment will be provided on a gift card per UofL policies which requires that some personal information is gathered (name, address, SS#) in order to comply with the IRS.
Time will be rounded up.
UofL Students, Staff and Faculty

We welcome students, staff and faculty and would love to have you be part of this programming. Due to your status at the University, we are not able to provide financial compensation.

Students, we are happy to provide documentation of your participation for resumes and classroom extra credit.
Staff, we hope that you will consider spending time with us through "Community Service Leave" at UofL, which provides for one day of service with regular pay. (http://louisville.edu/hr/itemsofinterest/CSL.pdf)
Faculty, we hope that you will consider working with us as part of your "Service" requirement.
Diversity is a central value within our unit, therefore, we prioritize having speakers from diverse identities and experiences, including, but not limited to:
Race/ethnicity
Gender identity
Age
Ability
Immigration status
HIV status
Socioeconomic status
Healthcare experiences
Individual expertise on healthcare topics
Due to the limited number of trainings we offer in a given year and the need to focus on specific topics, we may not be able to hire all speakers. As a staff that strives to deliver high-quality educational content, we carefully craft panels that teach about LGBTQ lives through intersectionality. We also prioritize making sure the stories are relevant to a particular audience and that speakers and students have a positive experience.

As such, we prioritize:
diverse identities
diverse experiences in health care
relevant stories to tell the particular audience we are addressing
speakers who have social and emotional support in place to handle/cope with triggers that may come up in any given training
We hope that you will consider joining our educational team as a speaker!
If you are interested, please reach out to the LGBT Center at lgbt@louisville.edu.