U of L Pride Alumni Council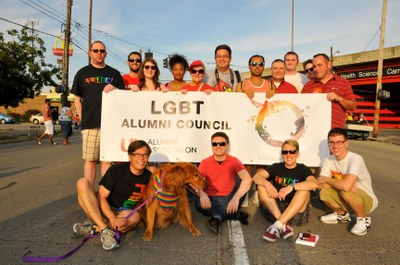 Established in 2014, the mission of the UofL Pride Alumni Council is to enrich the lives of LGBT students, alumni, their families and allies through social events, educational programs and scholarships.  The network works in collaboration with other alumni groups and the university's Alumni Association.  
There are many ways to be involved! Opportunities for engagement include:
·         Council Leadership
·         Event Planning
·         Educational Programming
·         Fund Development
·         Marketing and Promotions
Though still new, the Pride Alumni Council has had many successes. Highlights include:
Funding the Brian Buford Endowed Alumni LGBTQ Scholarship
Hosting the annual Pre-Pink Cocktail Party and Signature Event
Sponsoring study breaks during finals week, providing coffee and donuts to students
Hosting Alternative Thanksgiving, ensuring students have a safe and affirming space to celebrate the holiday
Sponsoring UofL's Lavender Graduation Celebration, and presenting rainbow chords to each graduate
Marching in the annual Kentuckiana Pride Parade
Partnering with the LGBT Center to host Cardinal OUTlook Day for prospective LGBTQ+ high school students.
Awarding the Andy Downey Outstanding LGBT Alumnus of the Year award.
Visit the Pride Alumni Council webpage for more information on how you can get involved.