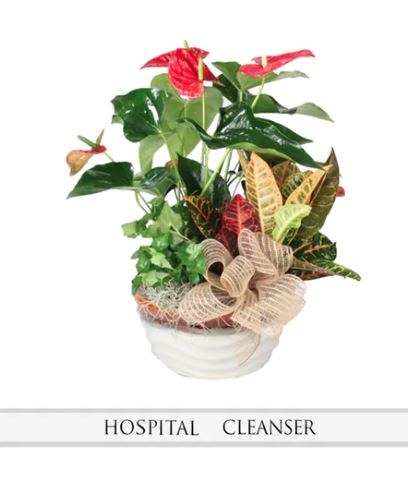 Healthy Plant Collection
Nanz & Kraft Florists has partnered with the Center for Healthy Air, Water, & Soil at the Christina Lee Brown Envirome Institute to offer the Healthy Plants Collection. The Healthy Plant Collection will bring greenness to your indoor environment and can help improve mental wellbeing and air quality!
At Home Experiment Series
In a continued partnership, the University of Louisville's Center for Healthy Air, Water, & Soil and Junior Achievement of Kentuckiana are bringing the JA BizTown Community Health Researcher job virtually to our students.  Just like the team of researchers at the University of Louisville, your student will conduct experiments and present research findings to U of L from home!  Make sure to turn in your findings to the University of Louisville's Center for Healthy Air, Water, & Soil to get  your BizTown-themed Health Researcher certificate and Health Ambassador pin!
Health Ambassadors
Health in All Policies is a way to improve health for individuals and communities. Our Health Ambassadors make decisions through a lens of health – they consider how actions will affect people's health and choose options that support health and wellbeing. We are starting a Health in All Policies movement by supporting people in Louisville who work to make their communities healthier. 
---
Why soil is one of the most amazing things on Earth
Soil is one the most underrated, and little-understood, wonders on our fragile planet. ar from being lifeless dirt, it's estimated that in a single gram of soil, there could be as many as 50,000 species of microscopic organisms, or microorganisms. And in one teaspoon of soil, there are more microorganisms than there are people on the Earth. Watch this video from the Royal Society to learn how special soil is.
Support Healthy Air Water and Soil
Every living thing needs healthy air, water, and soil to have a healthy, vibrant life. We're working to connect science to our communities and improve city policy, urban design, and the way we understand our environment. If you would like to support our work that brings citizen science and innovative environmental health research to the University of Louisville, consider contributing to our work!