My City My School
LOCAL ROOTS, GLOBAL IMPACT.
There's an unbreakable bond between UofL and our hometown students. Our dynamic connection with the city and the global community means local Cardinals can make impacts at home and beyond.
Apply to UofL
Learn more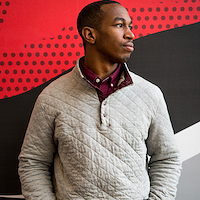 "By choosing to stay in my hometown for college, I've been able to explore my community on a deeper level."
Joshua J.
duPont Manual High School
Marketing, Class of 2020
Joshua found that staying in his hometown for college meant he could expand on the connections he had already made with his community. Through internships and networking with local business leaders and entrepreneurs, Joshua has a support system that extends far beyond UofL's campus.
"Staying local and attending the University of Louisville means that I will be graduating debt-free, and I'll be prepared academically and financially to take the next steps in my life."
Maegan H.
Ballard High School
Individualized Major - Spanish & International Journalism, Class of 2021
Maegan created her own path with an individualized major in Spanish and International Journalism. The connections she has made on campus give her the opportunity to make an impact in Louisville and internationally, where she works with refugees in Colombia. Maegan is attending UofL debt-free through the Martin Luther King Jr. Scholarship.
"My co-op experience at UofL allowed me to lay a strong foundation on which I'll be able to build my future."
Johnathan F.
Pleasure Ridge Park High School
Electrical Engineering, Class of 2021
Johnathan chose to live at home his first two years to save money. As a commuter student, he became part of the campus community by attending Welcome Week, participating in Greek life and joining the Engage Lead Serve Board. Because of his UofL-sponsored co-op, Johnathan saved enough money to move onto campus his junior year. His co-op also gave Johnathan real-world experience with a local business, connecting him with the Louisville community and job prospects immediately following graduation.
"Choosing UofL allowed me to deepen my connections with local musicians and music teachers, putting me a step ahead as I worked toward earning my degree. It also allowed me to stay close to the individuals in my support system."
Emily G.
New Albany High School
Music Education, Class of 2018
As someone who had already built connections with musicians in the Louisville and Southern Indiana area, Emily took charge of her future as a music teacher by choosing UofL. Her expanded connections with her professors and mentors, along with opportunities to experience working in diverse urban and suburban educational settings around the city helped set Emily on a path toward excellence as a music educator.
Questions? Contactyour personal UofL admissions counselor.