Product Development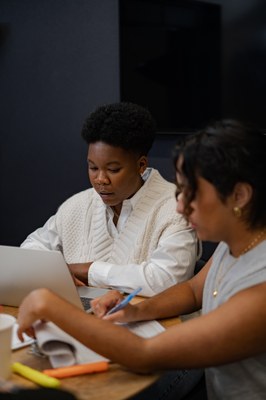 CFCWB has developed many products in collaboration with leading experts:  
CFCWB has partnered with leading suicidologist and Kent faculty member Dr. Laura Frey to develop a new evidence-informed training curriculum on family navigation of suicide risk called NAVIGATE. This curriculum is the culmination of much of Dr. Frey's research, clinical expertise, and theoretical work in this important area and will be offered to professionals as a three day training with certification as a NAVIGATE provider.
CFCWB has partnered with Dr. Maurice Gattis and the Louisville Metro Department of Public Health to develop a web-based resource directory for the LGBTQ community in Louisville. This multi-stage research driven resource development project has included a community needs assessment survey, focus groups with clients/parents/providers, and provider survey of LGBTQ supportive criteria.
CFCWB has developed a series of program on coping with COVID and transitioning back from COVID to address the stress and mental health impacts of the pandemic for a variety of audiences, including faculty, staff, and students at the University level, teachers, families, and students in early education settings.
CFCWB has developed an anti-racism program that includes macro and micro strategies for change, historical and cultural context of racism that can be delivered to a variety of professional audiences, as well as students.
CFCWB has developed a comprehensive trauma informed care training program for organizations that includes organization-wide, leadership, supervisor, and staff training in trauma informed care principles.
CFCWB has partnered with Moxie Girl to develop web-based content on mental health for adolescents.
CFCWB has partnered with University of South Florida to develop web-based content on mental health for students to manage stress and health issues such as anxiety and depression.
---
Learn about some of our  product development projects:
| | Forensic Resilience Training Academy (FRTA) Manual Development | Partnering with community organizations to provide evidence-based programming materials for forensic professionals to foster resilience. |
| --- | --- | --- |

The University of Louisville Human Trafficking Research Initiative (HTRI) in partnership with the Center for Family and Community Well-Being (CFCW) will deliver evidence-based professional training on six total specialized topics, as requested by the National Children's Alliance.  The training sessions will be delivered by master-level trainers via a CAC Forensic Resilience Training Academy series. 

Training topics include:
1.    Mitigating Compassion Fatigue: Theory & Practice for Self Preservation and Team Care
2.    Trauma-informed Identification and Screening of Victims of CP and HT
3.    Trauma-informed Response and Trauma-specific Services for Victims of CP
4.    Working with Adolescent Victims in Cases of Youth-produced Sexual Image(s)
5.    Specialized Forensic Training for Interviewing Victims of CP and HT
6.    Developing a Trauma-Informed Community Response to CP and HT

Key project deliverables include:
•    Development of the Forensic Resilience Training Academy (FRTA) curriculum
•    Coordination and facilitation of the 6 training modules (2 sessions each; 2 hours each, the majority of the sessions will be delivered remotely) plus two 2-hour coaching/embedding sessions
•    Development of a FRTA training manual for participants
•    A brief research and evaluation report summarizing the impact and outcomes of the Forensic Resilience Training Academy (summary of survey results and interview themes)
| | Moxie Girl Mental Health Programming Development | Development of online mental health content for Moxie Girls. |
| --- | --- | --- |

Moxie Inc offers mentoring, goal setting, and mental health support to girls. The CFCWB proposes to partner with Moxie Inc for the following deliverables:


Development of mental health program content on four topics related to anxiety: CFCWB will develop evidence-based content on four key topics related to general concepts of anxiety and cognitive behavioral strategies to manage anxiety. These topics will include:

managing runaway thoughts;
cognitive distortions and strategies to combat distortions;
behavioral management strategies for anxiety, including breathing exercises, physical relaxation exercises, vagus nerve exercises, mindfulness techniques;
fear ladder to address social anxiety and other specific fears.

Adaptation of program content for four target lengths (2, 5, and 15 minute segments) with supporting materials: CFCWB will take core content for the four topics above and adapt to 2, 5, and 15 minute segments for each topic for a total of 16 segments. These adaptations will include core written content, video suggestions, activity suggestions, "homework" or real world practice/application exercises, and discussion/self-reflection questions (for 15 minute mentor supported format). There will be four 2 minute videos on the four behavioral management strategies. Total number of modules to be developed: seven 2 minute modules; four 4 minutes modules; four 15 minute modules for a total of 15 modules.
General project management and support of transfer to Moxie Inc platform from raw CFCWB format: Upon completion and review/approval of content, CFCWB team members will meet with Moxie Inc developers/team members to support transfer of content from raw CFCWB format to MG platform. This consultation will allow for clarification of content, discussion of best practices for activities, videos and other supplemental content to support mental health outcomes.
| | Development of an Evidence-Informed Mental Health Program for Student Athletes | Evidence-informed mental health program on mental health for student athletes. |
| --- | --- | --- |

The Center for Family and Community Well-Being developed an evidence-informed mental health program on mental health for student athletes. The COVID-19 pandemic has resulted in a significant increase in student athlete distress and mental health issues. While the NCAA and others have identified the need for comprehensive screening and services, there are low rates of implementation and a significant gap in the existing evidence-based or evidence-informed mental health programs are not specific to the population of student athletes. This project used a participatory action research approach to pilot, solicit feedback from athletes and develop customized program, implement and evaluate effectiveness of a psychoeducation program on mental health for student athletes.