Request a Program
Request a Program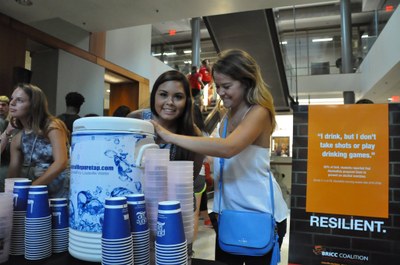 Resiliency is in our name and we work to increase students' use of protective strategies, so they make healthy choices when alcohol and other substances are present.  BRICC encourages students who choose to drink to do so in a less dangerous and less risky way, supports students who choose not to drink and students who are in recovery. 
Our programs are lively, interactive and provide informative resources to help build on your participants' knowledge and move them from just "knowing" to taking action to implement the strategies.   All programs include measurable Student Learning Outcomes and evaluations.
When you request a program, you are responsible to securing room reservation, set-up, advertising, and attendance.
Click below to request a custom program, TIPs Certification or Tabling Event:
https://forms.office.com/r/0YdUU3p6aJ
Once you have completed the request form, a BRICC HAL will be in touch within 72 hours to complete the scheduling and confirm details. 
If you have any questions, please call 502-852-3442 or email briccchs@louisville.edu
Select from the following program offerings to create your custom event:
Reducing High Risk Drinking and Inclusive Thinking (30 minutes)
Don't Drink? Don't Worry (10 minutes)
Helping Your Friends (10 minutes)
What is a Standard Drink Size and Why it Matters (10 minutes)
Warning Signs of Alcohol Poisoning (10 minutes)
Understanding Medical Amnesty (10 minutes)
Choose a time frame and select one or more programs to complete your event:
30 minutes (1-3 menu items)
45 minutes (4-5 menu items)
1 hour (5 menu items)
Training for Intervention Procedures (TIPs) Certification (3-hours in length including test)
This certification is beneficial for students in charge of planning events, serving as RAs, risk management chairs, executive boards, and leadership positions. TIPs recognizes that students are in the best position to address drinking behaviors among their peers.  This certification helps students improve their observation skills, develop their social skills, and develop strategies for intervening in alcohol-related situations that may occur on or off campus. TIPs is endorsed by The National Registry of Evidence-based Programs and Practices (NREPP), a project of the Substance Abuse and Mental Health Service Administration (SAMHSA).