SPHIS Home » News » Trinidad Jackson receives 2022 Guy Stevenson Award
Trinidad Jackson receives 2022 Guy Stevenson Award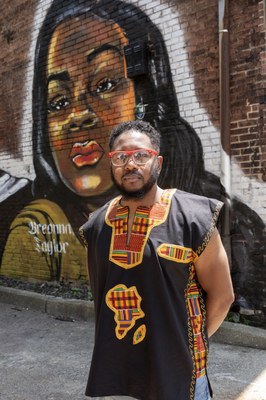 Trinidad Jackson, PhD, MPH, MS, is the May 2022 recipient of the Guy Stevenson Award for Excellence in Graduate Studies—the highest award given by UofL's Graduate School. Dr. Jackson earned a PhD in Public Health Sciences with a specialization in Health Promotion and Behavioral Sciences after the successful defense of his dissertation, "Public health contagion of white supremacy: Examining the pipeline of attitudes about racism and racial history education among high school students."
The Guy Stevenson Award for Excellence in Graduate Studies, named for a former Graduate Dean, recognizes an outstanding doctoral degree recipient who has demonstrated excellence in both scholarship and leadership within the discipline, and has made significant contributions to teaching and service, as applicable.
As the Stevenson Award recipient, Dr. Jackson will speak at the Doctoral Hooding and Graduation ceremony and will carry the Graduate School banner at commencement events on Friday, May 13 and Saturday, May 14. 
Dr. Jackson is faculty in the Department of Health Promotion and Behavioral Sciences and Assistant Dean for Culture and Liberation. He also holds a joint appointment with the Kentucky Cabinet for Health and Family Services. His earned degrees include a BA in Psychology from Kentucky State University, an MS in Clinical Psychology from Morehead State University, and an MPH from UofL SPHIS. His research interests and social action include power, youth development, sociopolitical development, healing, human rights, suffocating white supremacy, liberation, and global perspectives.