Discounted Tuition Rate
Schedule a virtual meeting with our admissions coordinator today.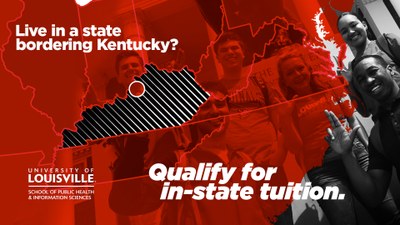 In-State Tuition for 7 States Bordering Kentucky
Students who enroll in the MPH or MSHA program and are from one of the seven bordering states of Kentucky are eligible to receive in-state tuition. Bordering states include Illinois, Indiana, Missouri, Ohio, Tennessee, Virginia, and West Virginia.
Click here to download a flyer about this program.
---
Academic Common Market (ACM)
The ACM is an agreement amongst several southern and mid-Atlantic states to allow students to study out-of-state in a specialized program not offered within their home state at the in-state resident tuition rate of the host institution. Students from the states of Delaware and South Carolina are eligible for the ACM for the Doctor of Philosophy (Ph.D.) in Biostatistics.
 A UofL education is an excellent investment in your future. For additional information on educational expenses and the Cost of Attendance, please visit the Student Financial Aid Office's website.