Tammy Albers, MS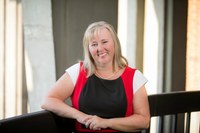 SPHIS Administration 
Program Manager, Student Services
485 E Gray St., Room 013
Phone: 502-852-7580
Fax: 502-852-3294
tralbe02@louisville.edu
Office Hours: 8:00 a.m. - 4:30 p.m.
I have been with the university for 17 years working in the College of Education and Human Development for the Education Advising and Student Services Office for 11 years and I have been at the School of Public Health and Information Sciences for six years in the Student Services office. Students are my passion and I love helping them navigate their way through the system from admission to graduation!
I obtained my B.S. in Organizational Leadership and Learning (2013) and an M.S. in Human Resources and Organization Development with a concentration in Workplace Learning and Performance (2017) through U of L.
Honors & Awards
Outstanding Performance Award – 2009
Metroversity Outstanding Staff Member for Adult Learner Award – 2015
Nominee for Provost's Award for Exemplary Advising – 2016
Student Champion 2021, 2022, 2023