Sara Choate, PhD(c), MSEd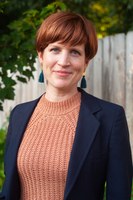 Department of Health Promotion & Behavioral Sciences
Instructor
School of Public Health and Information Sciences
485 E Gray St., Room 203
Louisville, KY 40202
502-852-0196 (office)
Office hours: Virtual/in-person appointment (HSC);
W:1:30pm-3pm; Th: 10:30am-12pm; SAC W309 (Belknap)
sara.choate@louisville.edu
I am a doctoral candidate in the Department of Health Management and Systems Sciences with an emphasis in Social Policy at University of Louisville. I received a MSEd at The City College of New York, and a BA at the University of Wisconsin-Madison.  
As an instructor in the Department of Health Promotion and Behavioral Science, I teach Health Equity, Public Health Intervention Principles & Strategies at the undergraduate level; in Summer 2022 I will begin teaching pedagogy at the doctoral level.
My research interests include technology-delivered mental/emotional health interventions, mindfulness/meditation, trauma/toxic stress, comprehensive sexuality education as it relates to violence prevention/development of healthy relationships, with a focus on high-risk youth and young adult populations.
On the personal front, I am honored to spend my life with a loving partner, a vibrant baby daughter, a Labrador named Dan Quayle, and a healthy network of family and friends. I also enjoy exploring cooking using locally sourced produce, creating beauty in shared spaces, being physically active and traveling near and far whenever possible.
Service
Commission on the Status of Women, Commissioner & Mentor; Growing Mindfulness Initiative, Koru Trainer; UofL Green Dot Team, UofL Faculty & Staff Trainer; Mentoring for Success Program, Mentor; White Women Listen Learn Act, Community Liaison