Sara Choate, PhD, MSEd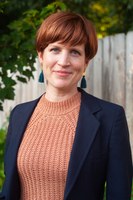 Department of Health Promotion & Behavioral Sciences
Assistant Professor
School of Public Health and Information Sciences
485 E Gray St., Room 203
Louisville, KY 40202
502-852-0196 (office)
Office hours: Virtual/in-person appointments available upon request
sara.choate@louisville.edu
I received a PhD in Public Health Sciences with a specialization in Health Management and Policy at University of Louisville. I received a MSEd at The City College of New York, and a BA at the University of Wisconsin-Madison.
As an assistant professor in the Department of Health Promotion and Behavioral Science, I teach Public Health & Health Policy and Health Equity at the undergraduate level; at the doctoral level, I teach pedagogy to prepare PhD students to act as co-learners and facilitators of knowledge in the classes they will co-teach with faculty mentors.
My research interests include technology-delivered mental/emotional health interventions, mindfulness/meditation, trauma/toxic stress, comprehensive sexuality education as it relates to violence prevention/development of healthy relationships, with a focus on high-risk youth and young adult populations.
On the personal front, I am honored to spend my life with my loving partner, our daughter, dog, and a healthy network of family and friends. I also enjoy cooking using locally sourced produce, creating beauty in shared spaces, being physically active and traveling near and far whenever possible.
SERVICE
-- Commission on the Status of Women, Faculty & Staff Budget & Planning committee member, Commissioner, Mentor; Koru Trainer;
-- UofL Green Dot Faculty Training Team;
-- Listen Learn Act, Community Liaison
Publications
Choate, S.A. (2022). Meeting the mental health needs of college-aged young adults: Evaluating the value and impact of digital mental health interventions [Unpublished manuscript]. School of Public Health and Information Sciences, University of Louisville. https://ir.library.louisville.edu/etd/3980 
Johnson, D., Cahill, M., Choate, S., Roelfs, D. & Walsh, S.E. (2022). The Influence of Public Health Faculty on College and University Plans During the COVID-19 Pandemic. Front. Public Health 9:745232. doi: 10.3389/fpubh.2021.745232. 
Hartson, K. R., Hall, L. A., & Choate, S. A. (2021). Stressors and resilience are associated with well-being in young adult college students. Journal of American college health : J of ACH, 1–9. Advance online publication. https://doi.org/10.1080/07448481.2021.1908309