Eliminate Communication Clutter
Increase your organization's credibility by developing strategic business writing skills.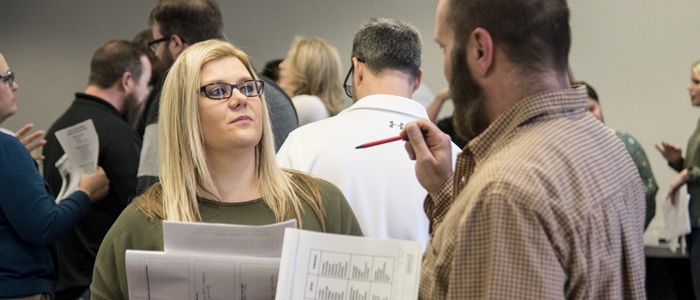 Whether it's used in a sales letter, website copy, or a press release, clear, targeted writing has the power to help your organization meet its goals.
Have any of these common communication challenges been an issue in your organization?
Lack of research: Sometimes research is skipped altogether; other times, writers don't do enough digging to uncover quality sources.
Lack of a strategic writing focus: If the writer didn't begin with a goal in mind, the intent may not be clear.
The final version feels like a first draft: Without revising and editing, written pieces often don't sound polished.
The good news is that business writing skills can be mastered at all levels of your organization to enhance your communications.
Effective writing is the result of a logical process, as indicated in the book Strategic Writing: Multimedia Writing for Public Relations, Advertising and More. Once you've mastered the process, drafting effective communications will become second nature.
How to Write Well
The following tips can help employees produce effective, credible communication pieces for customers, vendors and other recipients.
Identify your audience.
Organizations continually work to build relationships with a variety of stakeholders, ranging from clients to the media to their own employees using public relations tools such as news releases, media kits, newsletters, annual reports, and websites. Defining and understanding your audience is a key part of writing to that group's interests and persuading its members to take a desired action.
Take into account the group's demographics—such as age, gender, and income; personality, values, attitudes, interests, and other psychological traits; the competitors group members feel you have; and its current impression of your organization.
Drive the point home.
Determine the one, unique, clear message you're trying to get across—and make sure your writing emphasizes it. What effect do you hope your communication pieces will have? What supporting evidence can you offer to convince the reader to react in a certain way?
Evaluate your argument.
Review, edit, and polish your work. Consult colleagues or outside reviewers to ensure that your message is clear, your piece is error-free, and your thoughts are well-organized.
Gauge whether the format is the most effective way to express your message. Would a formal sales and fundraising letter—which can cause recipients to act—work best? Or would a postcard or brochure that first poses a question or problem, provides an answer or solution, and ends with a call to action—featuring strong headlines, subheads, bullet points, and other elements to break up the text—make a bigger impact?
Strategic Writing Checklist
Content
Does the content and its execution meet your objectives?
Does the message authentically represent the organization's values?
Does the message speak to the intended readers' values?
Organization
Does the structure present the content in the best way?
Does each part of the message transition logically to the next?
Grammar
Is the content grammatically correct/error-free?
Source: Strategic Writing: Multimedia Writing for Public Relations, Advertising and More (3rd Edition), by Marsh, Guth, and Short (Allyn and Bacon, 2012) ISBN-10: 0205031978 ISBN-13: 978- 0205031979