Books
Toward a Transnational University: WAC/WID Across Borders of Language, Nation, and Discipline
Edited by Jonathan Hall and Bruce Horner
Copy edited by Don Donahue. Designed by Mike Palmquist. Cover art and design by Malcolm Childers.
,
Teaching and Studying Transnational Composition.  Ed.
Christiane Donahue and Bruce Horner.  Modern Language Association,  2023.
Bruce Horner, Megan Faver Hartline, Ashanka Kumari, and Laura Sceniak Matravers, editors.  Mobility Work in Composition.  Utah State University Press, 2021.
"This collection is the first to thematize mobility as the main topic and the central focus of inquiry. In this regard, it has the chance to turn immediately into the standard work in the field."  —John Trimbur, Emerson College
Bruce Horner and Elliot Tetreault, editors. Crossing Divides: Exploring Translingual Writing Pedagogies and Programs. Utah State University Press, 2017. 
WINNER, 2018  Modern Language Association 2016-17 Mina P. Shaughnessy Biennial Book Prize for an Outstanding Work on Language, Culture, Literature, or Literacy with Strong Application to the Teaching English.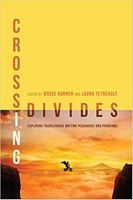 Bruce Horner, Brice Nordquist, and Susan M. Ryan, editors. Economies of Writing: Revaluations in Rhetoric and Composition. Utah State University Press, 2017.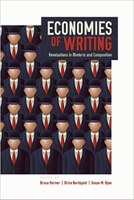 Horner, Bruce. Rewriting Composition: Terms of Exchange. Southern Illinois University Press, 2016.
In this book, I bring together my interest in issues of labor and language, arguing that tenets of monolingualism treating languages as discrete, stable, and internally uniform entities sustain the poor working conditions of composition by rendering invisible the concrete labor of writers, including student writers, in reproducing and revising language(s) through their writing practices.  Alternatively, I argue for honoring the concrete labor composition students engage and focusing not on whether their writing differs from a chimerical language (or modal) norm but, instead, what difference to social relations it inevitably makes in what it sustains and revises.  -BH

Horner, Bruce, Cynthia L. Selfe, and Timothy Lockridge. Translinguality, Transmodality, and Difference: Exploring Dispositions and Change in Language and Learning. Digital Monograph. Enculturation Intermezzo, 2015.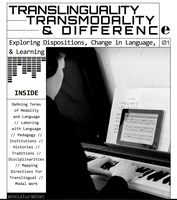 Horner, Bruce, and Karen Kopelson, editors. Reworking English in Rhetoric and Composition. Southern Illinois University Press, 2014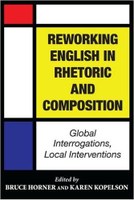 Horner, Bruce, Min-Zhan  Lu, and Paul Kei Matsuda, editors. Cross-Language Relations in Composition. Southern Illinois University Press, 2010.
Winner of the 2012 CCCC Outstanding Book Award for its work in the field of Composition and Rhetoric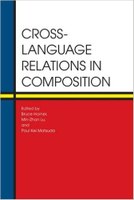 Lu, Min-Zhan, and Bruce Horner. Writing Conventions. Pearson Longman Press, 2008.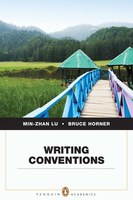 Horner, Bruce. Terms of Work for Composition: A Materialist Critique. State University of New York Press, 2000.
Winner of the W. Ross Winterowd Award for the Most Outstanding Book Published Each Year on Composition Theory.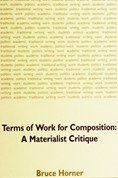 Horner, Bruce, and Min-Zhan Lu. Representing the "Other": Basic Writers and the Teaching of Basic Writing. National Council of Teachers of English, 1999.


Horner, Bruce, and Thomas Swiss. Key Terms in Popular Music and Culture. Blackwell, 1999.  Chinese translation 流行音乐与文化关键词, trans. Lu Zheng Lan (陆正兰 ), Liu Xiao Bo (刘小波 ), et al.  Beijing: Sichuan UP, 2016.