Current News and Events
Superfund Trainees hike to Valley of the Drums Superfund Site
UofL SRC Trainees were led by master's sustainability student Samantha Satterly on a hike to the site next to the "Valley of the Drums" or A.L. Taylor Superfund site on October 28, 2022.  The trainees learned that this toxic waste site was used as an uncontrolled industrial chemical waste disposal site.  17,000 drums of unregulated and unreported waste from the paint and coating industries of Louisville collected from 1967 to 1977 were discovered throughout 23 acres in Brooks, KY near Jefferson Memorial Forest in Bullitt County.  The hazardous waste in the drums was burned or found to have leached into the soil and groudwater.  This was one of the main sites that led to the establishment of the Superfund Program.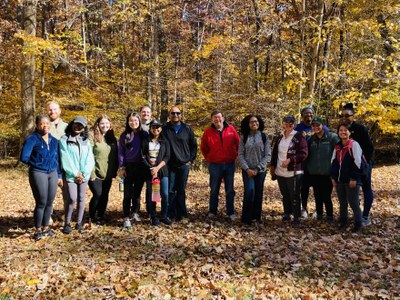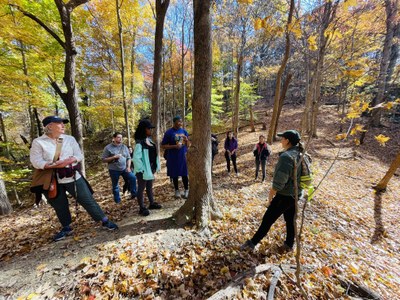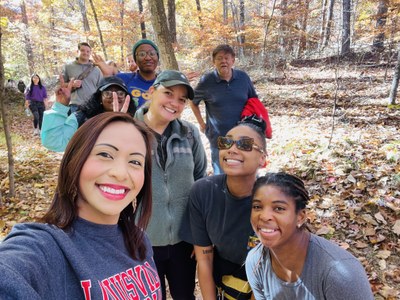 ---
Dr. Kenneth Ramos
Superfund Distinguished Scientific Scholar Series Presentation
Tuesday, September 6th at 4:00pm UofL Superfund Research Center has invited our first guest for the Superfund Distinguished Scientific Scholar Series.  Dr. Kenneth Ramos will present his work entitled, "Functional Genomics of LINE-1 Retrotransposition: Clinical and Environmental Risk Assessment Considerations." Dr. Kenneth Ramos is the Chair of UofL Superfund Research Center's External Advisory Committee, and he is currently the Associate Vice President for Research at Texas A&M University.  He has also served as the Interim Dean for the College of Medicine at the University of Arizona Phoenix and the Chair of Biochemistry here at UofL.  Please see the flyer for more information about the presentation.  All are encourage to attend in person in the Cardiovascular Innovation Institute first floor conference room, but if you would prefer to attend virtually, click on the flyer to directly take you to Microsoft Teams meeting.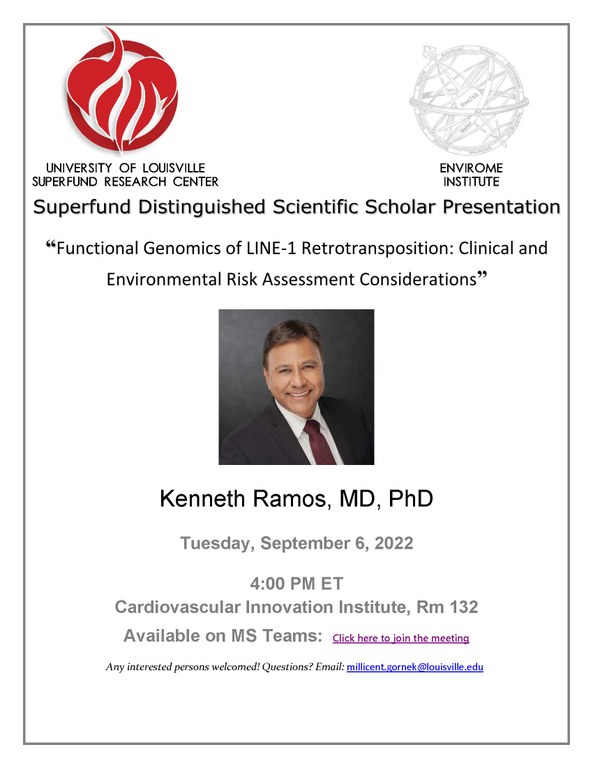 ---
UofL Superfund Research Center Addresses Potential Styrene Toxcity with Local Neighborhood Residents
Dr. Sanjay Srivastava attended a meeting organized by Councilwoman Nicole George to address the health concerns of the residents of the Beechmont neighborhood, located in south Louisville, that was the location of an accidental spill of the volatile organic compound styrene.   Dr. Srivastava also addressed the styrene spill on the local news.  Click the following link for the full story:
---
UofL and UAB Superfund Research Centers
Hold Mini-Syposium March 7, 2022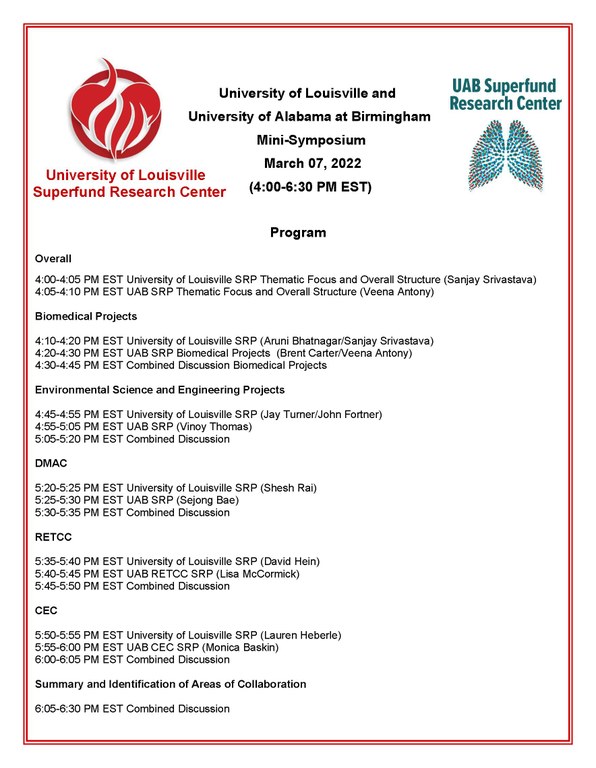 ---
UofL Superfund Project 3 develops portable GC/MS to monitor VOCs in indoor and outdoor air
<
---