The Institutional Compliance office provides independent oversight for the University of Louisville's compliance program. If you become aware of any situation that may jeopardize UofL's ethical integrity, please report it by contacting the Compliance Hotline - 1-877-852-1167.
The Research Integrity Program directs and conducts the University's program for education and training in the responsible conduct of research, coordinating the implementation of this effort with departments and units within the University, with the objective of ensuring that the responsible conduct of research is maintained at a high priority level in all aspects of research activities.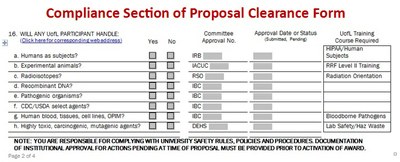 Contact the Research Integrity office with questions regarding conflicts of interest, management plans, responsible conduct of research, and Attestation and Disclosure Forms (ADFs), which replaced the Disclosure of Significant Financial Interest forms.
The Proposal Clearance Form (PCF) includes section 16 (a-h) for compliance questions. If the project requires any UofL participant to interact with or handle human subjects, animals, or agents impacting environmental health and safety (ionizing radiation devices/isotopes; recombinant DNA; pathogenic organisms; CDC/USDA select agents; human blood, tissues, cell lines, other potentially infectious materials [OPIM]; highly toxic, carcinogenic, mutagenic agents), the proposal must be submitted to the respective committees for internal review. Some research will require UofL courses. The PI must contact the appropriate office or committee that oversees the safe use and regulation of these items. They are briefly described below with links to each of their websites.
The DEHS provides environmental, health and safety services to the University community through technical and regulatory compliance assistance, information and training programs, consulting services and periodic auditing of environmental, health and safety practices. Contact the DEHS if your research involves highly toxic, carcinogenic, or mutagenic agents and to find out about the required training.
The University's Institutional Biosafety Committee (IBC) reviews all institutional activities involving the use of biohazardous agents and recombinant and synthetic nucleic acid molecules that require approval for "biosafety activities" as described in current governmental regulatory requirements. Contact the IBC when your research involves recombinant DNA, pathogenic organisms, CDC/USDA select agents, and/or human blood, tissues, cell lines and other potentially infectious materials (OPIM). Training is required for human blood, tissues, cell lines and OPIM.
The Radiation Safety Committee (RSC) sets University policies and oversees the implementation of all aspects of the safe use of radioisotopes and radiation. When your research involves radioisotopes, Radiation Orientation is a required course. Contact the RSC for class and compliance information.
The IACUC is an advisory committee to the Institutional Official, which at UofL is the Vice President for Health Affairs, and is assigned the oversight for all animal care and use. Training is required for research involving animals. Contact IACUC when your research involves animals.
The Human Subjects Protection Program Office (HSPPO) serves as the administrative office for UofL's Institutional Review Boards (IRB). The IRB members are appointed to safeguard the rights and welfare of human subjects in research. Training is required for research involving human subjects. Contact HSPPO when your research involves human subjects (including surveys, and may include work involving data sets, cell lines, or protected health information).
The University is committed to the highest level of compliance with all applicable export control laws and regulations. It is important that you review the federal requirements because you can be held personally liable for export violations. A few examples of activities that might trigger export control issues include: sponsored research containing contractual restrictions on publication or dissemination; research in export restricted science and engineering areas such as military; traveling overseas with equipment, confidential data, or proprietary information; traveling with laptop computers, web-enabled cell phones and other personal equipment. Direct your questions concerning export controls to the Director of Export & Secure Research Compliance.
Whenever a Researcher has developed something they think is truly remarkable or innovative in their research, they should disclose it to the OTT. All Material Transfer Agreements are handled by the Contract and Compliance Division of the Office of Technology Transfer. UofL's Intellectual Property Policy can also be found on the OTT website.
Contact the Arts and Sciences Research Office if you have any questions.