SPHIS Home » News » The Troutman Family Announces the Passing of Public Health Giant and APHA Past President, Adewale Troutman
The Troutman Family Announces the Passing of Public Health Giant and APHA Past President, Adewale Troutman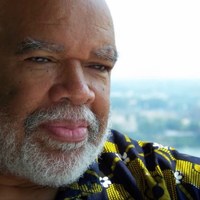 "Dr. Troutman was born to public health. While many would argue he was a civil rights champion, both are true. He worked in the public health space framed by health inequities linked to racial biases. He laid the foundation for much of the work that continues to this day.
As the Louisville Metro Department of Health and Wellness director early in this century, he founded the center for health equity that continues to work his vision in the city. The center's periodic health equity report is a model that other cities aspire to replicate nationally.
As most of us in public health came to recognize in our formative years, seeking methods to manipulate policy and impact great numbers of our friends and colleagues who we will never personally meet is by far the avenue to achieve the greatest good.
While he relocated to Tampa and continued his quest to improve the health of those with unequal access to the resources we all seek and need, to this day we continue the strong collaborative relationship between academic public health at the University of Louisville and applied public health in the city infrastructure that Dr. Troutman established 15 years ago.
May we all remain vigilant in traveling the path he helped create in seeking a more fair and healthy world"
-- Dean Craig Blakely.
---
Read the announcement released by the Troutman family.
"I had the privilege of knowing and working with Dr. Troutman during his tenure in Louisville. In addition to having a tremendous impact on our community, he was always a kind and generous person. One example is the support he gave for the Gray Street Farmers Market, which is a joint venture between the Louisville Metro Dept. of Public Health & Wellness and the UofL School of Public Health and Information Sciences. I've been leading the project for the school since its inception and found a few wonderful images of Dr. Troutman – speaking at a farmers market press event, volunteering as DJ at our end-of-the-season celebration, and interacting with one of our farmers after a bike ride. His memory and legacy will be forever remembered."
-- Melissa Schreck, Director of External Affairs and Strategic Planning.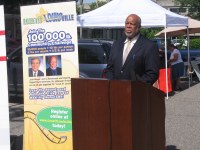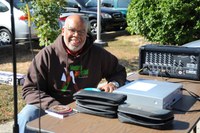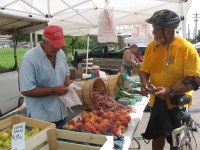 Troutman's life will be celebrated in a public memorial service Aug. 6 in Tampa, Florida. There will be an additional service later this fall in Louisville. Those who want to attend may text "ADE" to 901-676-7372 for updates. In lieu of flowers, the family asks that well-wishers honor his life and legacy by donating to the Dr. Adewale Troutman Memorial Fund.