Student News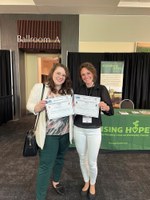 SPHIS Poster Winners at KPHA
The Kentucky Public Health Association (KPHA) Annual Conference is a venue for public health students to showcase their research. During the 2022 KPHA conference, Lyndsey Blair received first place for her poster, "Residence in Urban or Rural Counties in relation to Opioid Overdose Mortality in Kentucky before and during the COVID-19 Pandemic." She also presented this poster at the Society for Epidemiologic Research in June. Lindsey Wood received second place for her poster, "Modification of The Relationship Between Environmental Noise and Prevalence of Mental Ill-Health by Neighborhood Income and Race in Louisville, Kentucky." Blair and Wood are both doctoral candidates in the Dept. of Epidemiology and Population Health.
---
HMSS research assistant presents at Research Incubation Meeting
Emmanuel Ezekekwu, BPharm, MHA, PhD(c), presented, "The association of long working hours and the use of prescription sedatives in US workers" during a recent Research Incubation meeting. Ezekekwu is a research assistant in the Dept. of Health Management and Systems Sciences and the Center for Health Organization Transformation. Watch his presentation.
---
Graduate student participates in internship at SPHIS through military's SkillBridge program
Graduate student Ryan Mackie is participating in an internship with SPHIS as part of the United States military's SkillBridge program. SkillBridge connects soldiers with civilian opportunities that match their job training and work experience. It is designed to help soldiers increase their marketability and career prospects during their last 180 days of service.
Prior to joining the military, Mackie worked for the University of Colorado and UCLA as a cancer research technician. Now, as he transitions out of the military, Mackie is interning with Drs. KB Kulasekera, chair and professor, Dept. of Bioinformatics and Biostatistics, and Bert Little, professor, Dept. of Health Management and Systems Sciences. Mackie said, "This internship will be invaluable to me when looking for employment outside the military. By participating in this internship, I will be able to get first-hand experience working in statistics."
---
HMSS doctoral candidate published in MedCrave Online Journal of Public Health
Naiya Patel, doctoral candidate in the Dept. of Health Management & Systems Sciences, was recently published by the MedCrave Online Journal of Public Health. The article titled, "Building a culture of health in Kentucky to address racism a public health crisis," evaluates, frames, and devises solutions surrounding racism and health equity in Kentucky utilizing the Robert Woods Johnson Foundation's action framework. Read more: