SPHIS Home » News » SPHIS Doctoral Candidate Awarded American Cancer Society Grant
SPHIS Doctoral Candidate Awarded American Cancer Society Grant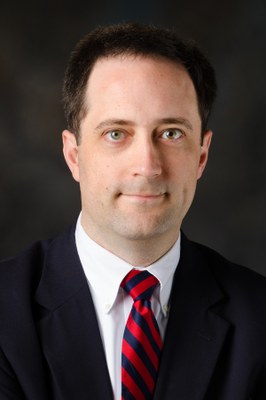 Michael Egger, MD, MPH '13, SPHIS alumni and doctoral candidate in the Dept. of Health Management and Systems Sciences, was awarded a four-year, $583,200 Clinician Scientist Development Grant from the American Cancer Society (ACS). Dr. Egger is part of a select group of scientists and healthcare professionals who have received ACS funding designed for individuals who want to maintain clinical practice and conduct cancer research. Dr. Egger is also an associate professor in the Hiram C. Polk, Jr, MD Department of Surgery, UofL School of Medicine, and a surgical oncologist at UofL Health.
The ACS grant supports Dr. Egger's study, "Disparities Along the Care Continuum for Rural Cancer Patients,'' that will investigate the impact of the rural environment on cancer patients' outcomes. The investigation will also be the focus of his dissertation research. Chris Johnson, PhD, Professor and Chair, Dept. of Health Management and Systems Sciences, will serve as Dr. Egger's primary mentor.
Dr. Egger explains, "Cancer patients living in rural America have worse cancer outcomes than cancer patients living in urban environments. Rural patients are more likely to be diagnosed with more advanced cancer and are less likely to achieve optimal outcomes. The reasons for these disparities are not clear, but likely are due in part to the overall health of patients living in rural areas, the lack of health care resources in the rural environment, difficulty accessing local health care providers, and the increased travel required for patients in rural areas to receive treatment."
Beginning January 2023, the study will assess how often patients receive the recommended treatments for their cancer, and how often they complete therapy. Researchers will evaluate the impact of the rural environment on cancer outcomes for these patients, in terms of how many doctors, specialists, and hospitals are close to where the patient lives. High-performing facilities, both in the urban and rural environment, will be identified in terms of how well they take care of rural cancer patients with lung or colon cancer. The characteristics of these facilities, and the resources available to them, will be evaluated to make recommendations for improving the quality of cancer care in rural America. Ultimately, the study seeks to determine what kinds of patients can be treated in their local rural facilities with good outcomes, and what kinds of patients would be better served by receiving treatment at more distant, urban facilities.