SPHIS Home » News » New online biostatistics programs offered at UofL
New online biostatistics programs offered at UofL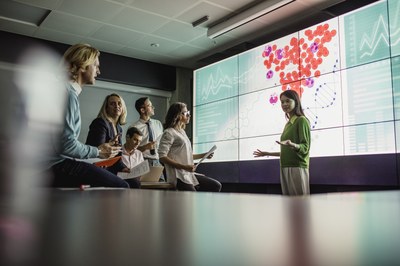 A new biostatistics certificate program at the University of Louisville School of Public Health and Information Sciences offers working professionals a chance to shift or advance their careers and expand their quantitative skillsets.
"Our school is broadening its offerings as we respond to needs of the market," said SPHIS Dean Craig Blakely, PhD. "This program certainly will allow students to expand their knowledge in the field of biostatistics while advancing their careers."
The 15-to-16-credit-hour biostatistics certificate, available in-person and online, allows students to apply fundamental methods for analysis and management of data across various industries including health care systems, pharmaceutical corporations, insurers, financial institutions and more. Students will learn how to employ statistical methods such as linear models, categorical data analysis, as well as the use of SAS and R software.
The certificate also provides an opportunity for individuals to test the waters for the in-person or completely online Master of Science (M.S.) in Biostatistics degree, as the credit hours earned in the certificate program count toward the master's in Biostatistics. The certificate also gives students extended time to apply for the master's program since they can enroll in the certificate program and then enter the MS program at a later date.
To better prepare students to transition into the master's program, a new series of Math Tools online courses will be available starting this summer. These four 1-credit-hour classes will be available every summer and will satisfy the prerequisite requirements for enrollment in the biostatistics master's program.
"We are the only program in the nation offering these unique courses during the preceding summer. They prepare an applicant who does not have the sufficient math background to obtain the knowledge needed before enrolling in the fall semester," said K.B. Kulasekera, PhD, professor and chair, Department of Bioinformatics and Biostatistics.
The launch of the new biostatistics certificate, as well as the online biostatistics master's degree are part of a university-wide effort to provide flexible, in-demand, online degrees that serve working adults and the professional community. UofL currently offers 37 online programs including master's, bachelor's, certificates and teaching endorsements.
Courses for these programs follow the Quality Matters standards and are developed in collaboration with expert instructional designers in the Delphi Center.
"Our partnership with the School of Public Health and Information Sciences allows us to extend the highest standards in online instruction to adult learners, and to provide them the opportunity to discover what's beyond the data from beyond the walls of our campus," said Gale Rhodes, vice provost and executive director at the Delphi Center for Teaching and Learning. "Our adult students are busy professionals who seek educational and career advancements, and we are delighted to offer another career-focused program in a flexible, convenient format that can help them meet their goals."
"We continuously strive to launch innovative and career-focused programs that benefit adult learners and the community," said Gale Rhodes, vice provost and executive director at the Delphi Center for Teaching and Learning. "Partnering with the School of Public Health and Information Sciences to bring this unique certificate offering online is just the next step in our commitment to excellence in online higher education."