SPHIS Home » News » New master's program aimed at preparing healthcare data analysts
New master's program aimed at preparing healthcare data analysts
UofL School of Public Health and Information Sciences to offer traditional and online options
Preparing students for one of the fastest-growing careers in the United States is the aim of a new program in the University of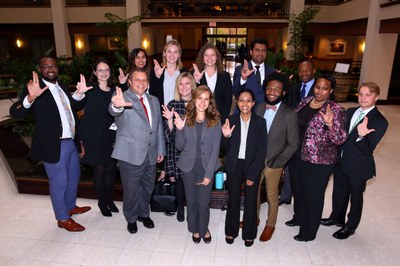 Louisville School of Public Health and Information Sciences.
The Master of Science in Health Data Analytics (MSHDA) will coach students to help health care organizations improve their quality and lower the cost of care, while enhancing the patient experience. Offered on campus and online beginning Fall 2019, this program gives students a solid foundation in population health and provides an understanding on how to bring empirical data analysis to bear on critical issues.

"This degree prepares students to become innovative healthcare leaders in high-demand careers," said Chris Johnson, Ph.D., chair of the Department of Health Management and Systems Sciences. "My department's vision is to offer nationally recognized programs that make an impact on health policy and population health."
The U.S. Bureau of Labor Statistics reports employment of computer and information research scientists is projected to grow 19percent from 2016 to 2026, faster than the average for all occupations. According to BurtchWorks.com, the number of applications for data analytics programs is rising sharply compared to a 70 percent decline in applications to MBA programs for 2018.

Bert Little, Ph.D., professor, Department of Health Management and Systems Sciences, is the MSHDA program director and brings more than 30 years of experience in health outcomes research, including stints with the Dallas Veterans Administration Medical Center and Parkland Hospital in Dallas.
He said this is a great time for students to pursue the degree, pointing out 100,000 vacant data analyst jobs, according to InformationWeek.com.
"Graduates of the program will be prepared for careers as healthcare analytics consultants, big data scientists, clinical analysts, analytics managers, professional services, along with positions in IT, finance and insurance.
"Our students will learn how to use health data to improve outcomes for patients with chronic diseases such as heart disease or diabetes. The curriculum also teaches students real-world skills through things like analyzing patient level data ranging from blood pressure information to genomics," Little said.
To graduate, students must successfully complete the 41-credit hour curriculum and a capstone course in preparation for the Certified Health Data Analyst examination, and maintain an overall 3.0 GPA in coursework. 
The traditional on-campus program is designed to be completed in two years on a full-time basis. Courses will be offered on the Health Sciences Center campus, primarily in the evening, Monday through Thursday, to accommodate students who work full‐time. Learn more about the on-campus program.
Similarly, the online program can be completed in two years on a full-time basis (and an extended part-time option also is available), with classes offered in an asynchronous format—meaning students complete coursework on their time, whenever is most suitable for them. Learn more about the online program.
The online MSHDA program joins a growing portfolio of online offerings from UofL, and is part of a university-wide effort to provide flexible, in-demand degrees that serve working adults and the professional community.
"Adult learners are perfect candidates for data science degrees because they are career-driven and crave new, applicable knowledge," said Gale Rhodes, Ph.D., vice provost and executive director of the Delphi Center for Teaching and Learning at UofL. "Partnering with the School of Public Health and Information Sciences to bring the Master of Science in Health Data Analytics online really exemplifies our dedication to delivering online degrees that empower UofL students to serve and improve our communities through education."
#WeAreUofL