SPHIS Home » News » Jenna El-Masri receives 2022 Provost's Award for Exemplary Advising
Jenna El-Masri receives 2022 Provost's Award for Exemplary Advising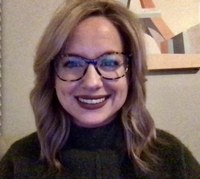 Undergraduate SPHIS senior academic counselor Jenna El-Masri, MA, has received the 2022 Provost's Award for Exemplary Advising. This award is given to full-time undergraduate academic advisors. In addition to being honored at an award ceremony on April 27, awardees also will receive a paid professional development opportunity.
Jenna said her advising philosophy focuses on empathy, honesty, collaboration, accessibility, continuing education, autonomy, diversity, and inclusivity. With more than 30 letters of support from UofL faculty, staff, and students, it's evident she's more than deserving of this honor. There were so many great things said about Jenna we couldn't list them all! Below is just a snippet of the accolades she received.  
- Jenna's supervisor, Rachel Quick, M.Ed., Academic Coordinator, said,"When you think of SPHIS andadvising, Jenna's face automatically pops up. Jenna is a vocal advocate for the needs of students andher colleagues…. She helps keep our unit together and we are proud to saythat Jenna is not just a part of our SPHIS family, but also a friend."
- One student wrote, "Jenna has gone above and beyond to advocate for her student's success.  I can attest to this as she has helped me so much with not only my academics, but also always encouraging me to look after both my physical and mental health!  Jenna's advising is organized, supportive, and catered specifically to each student's needs.  I feel like I am more than a number on campus because Jenna acknowledges who I am as a person and my goals!  She served as a mentor for me, and as first-generation college student, provided me guidance.  I can't thank her and SPHIS enough!"
- Colleague Rebecca Ledford, Arts & Sciences Advising Coordinator, said, "Jenna is the definition of what the Advisor of the Year should look like. Having worked with her on UAC and with students, she goes out of her way to be helpful to both students and colleagues.  She is always creating documents that are helpful to advisors to help us with our students and just to navigate some of the university-wide procedures. I can't think of anyone more deserving of this honor."
- Mike Sekula, PhD, Assistant Professor, Dept. of Bioinformatics and Biostatistics, wrote, "She is amazing, and I'm always so impressed with how active and involved she is with undergraduate public health students.  Jenna does a phenomenal job at communicating to both students and faculty members.  She promptly responds back to my concerns about students who may be falling behind in my course and makes it a point to reach out and check in on those students."
Jenna and the undergraduate advising team stay busy with over 200 students enrolled in the SPHIS bachelor's programs. She took the time to talk with us about her career and this well-deserved recognition.
Please provide us with a little background information (where you went to school, your degree, where you are from/grew up, how you landed at UofL, etc.).
I have lived in Louisville for most of my life, though I was born in Saudi Arabia and lived there for a little while. My mother is a Louisvillian, and my father is from Lebanon. They met here and both went to UofL, so UofL has always held a special place in my heart. I grew up wearing hand-me-down cards gear so I knew I would eventually end up here for school. I completed my undergraduate degree at the University of Louisville. I graduated Cum Laude with a BA in Psychology in 2015. My master's degree is in School Counseling from Spalding University. I still remember making jokes with my fellow graduate students about working for the University of Louisville and plotting the best path to end up as an advisor here. I started at Galen College of Nursing and the moment I saw openings at UofL for advising, I applied. I was beyond ecstatic when I received a call back from SPHIS Student Services and still remember the words Rachel Quick said to me during my interview. She warned me that it will be an adventure and every day is different when you're working with students. It has been four years and those words still hold true.
Do you primarily advise undergrads?
Yes, primarily. We like to say student services is a one-stop shop for students. We speak with them prior to attending UofL and even after they leave.
What is your favorite/most rewarding aspect of your job?
Hands down, my students.
How did you feel when you were told you had been nominated and won the Provost's Award for Exemplary Advising?
Honestly, I was in shock. I was just at the tail end of getting over COVID-19 when Rachel Quick texted me and suspiciously asked me to check my email if I could. When I saw the email from Katie Adamchik, I was struggling to catch my breath and not just because of COVID-19. It was in that moment that I had immense gratitude for my SPHIS Student Services team and all my students. I called Rachel immediately and in true Jenna fashion, I cried while struggling to find the right words to thank her. I knew it was a team effort for my nomination. I recently received the nomination packet, and the comments from my colleagues and students filled my heart in a way that only real love and support can.
What is one of your favorite memories of your time here at SPHIS?
I also serve as the coordinator for the Health Sciences and Public Health 2nd Year Living and Learning Communities. Every year since being in this position, we have hosted a Fall Festival at Wayside Christian Mission. The public health, nursing, and dental hygiene students create interactive fall-themed games for the children and health promotion provides chair massages for the adults. This is an event I look forward to every year. I am continuously impressed by our students and their ability to connect with those in the community.
What is your advice for students who are just beginning their public health journey?
It's ok to change your mind several times over the course of your public health undergraduate journey. I promise you will find your fit within public health, and I will be with you every step of the way.
What is your advice for those students who are just about to graduate?
Just breathe and take in this moment. I know it can be overwhelming to enter this next phase in your adult life, but your time in undergrad has prepared you for this. I cannot wait to see all that you will accomplish.
Any advice for someone who is on the fence about whether they should study public health or is unsure of what he/she wants to do?
There is something for everyone in public health because it touches on everything, seriously everything.
Share a fun fact about your life.
I essentially live in an animal shelter. I have four rescue pets: two dogs and two cats. They are exhausting and the best parts of my life. I walk my dogs almost every single day while listening to a podcast that I pretend is enhancing my intelligence when, in reality, I am learning behind the scenes moments from The Office (that still counts as educational, right?).