SPHIS Home » News » Faculty Spotlight: Dr. Robert Jacobs
Faculty Spotlight: Dr. Robert Jacobs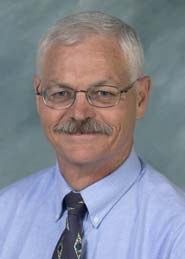 After coming to UofL SPHIS in 2005 and serving 15 years as the Director of the MPH program, Bob Jacobs, PhD, Professor, Dept. of Environmental and Occupational Health Sciences, retired on June 30, 2021. Jacobs was awarded Emeritus status, which is an honorary title given to those who want to stay active in scholarship following retirement.
Reflecting back, he has a lot of memories and stories to share. However, working with students in the MPH and environmental health concentration, both in the classroom and on their research, are some of his fondest memories. Dr. Jacobs selected "Introduction to Environmental and Occupational Health Sciences" as one of his favorites "because I was able to interact with students from each of the MPH concentrations and introduce them to what I firmly believe will be one of the major drivers for risk to Public Health over the coming decades." He also enjoyed teaching Environmental Risk Assessment, a course in the environmental health concentration that focuses on how we assess human health risk from the environment pollution/climate change and possible strategies to mitigate or adapt to those risks.
Beyond his interactions with students and hearing about the successes of graduates, Dr. Jacobs feels his most meaningful contribution to SPHIS was assisting in the development of the MPH program and its Council on Education for Public Health (CEPH) accreditation/reaccreditation.
Dean Craig Blakey expressed gratitude for Dr. Jacobs' significant contributions to the MPH program and the self-study preparation in advance of the school's recent CEPH reaccreditation. Dr. Blakely said, "Bob Jacobs single handedly maintained the quality assurance function for the school-wide MPH program, and he was a rock as we tightened up all the MPH competencies and related assessments across the core MPH courses and within each of the four MPH concentrations for CEPH. He was so strong in supporting our preparations that we now have him set up to do site visits for our accreditor during his retirement. Thankfully we won't face Bob and his CEPH colleagues for another seven years!"
When asked if he had any parting advice for public health students and graduates, Dr. Jacobs said, "Embrace the journey and be willing to allow it to lead you to some remarkable opportunities in public health."
He further explained that he came to public health without knowing much about it, which is a common occurrence for many students. In fact, he wasn't introduced to public health until his PhD studies in Environmental Sciences and Engineering at the UNC's school of public health.
"From that point forward, public health has provided a diverse journey that has given me opportunities, both domestic and abroad, to participate in and be a part of activities that improve the public's health," he added.
Dr. Jacobs plans to spend his retirement reading, writing, and once COVID-19 permits, traveling. He said, "I plan to continue working in environmental and public health through local and national volunteer initiatives and as needed continue to participate in the activities with SPHIS."
Join us in thanking Dr. Jacobs for his service to SPHIS and wishing him well during his retirement.
SPHIS Career
- Professor, Environmental and Occupational Health, 2005-2021
- Professor Emeritus, 2021
- MPH Director, 2005-2020
- Fulbright Lecturing Scholarship, West China School of Public Health, Sichuan University, China, 2010-11
- Delta Omega, National Honor Society in Public Health         
Degrees
- Baylor University (B.S. Biology, 1970) and M.S. (Ecology/Limnology, 1974)),
- University of North Carolina Chapel Hill School of Public Health Department of Environmental Sciences and Engineering (Ph.D. Environmental Sciences and Engineering, 1979)
- Honorary doctoral degree from Moldova's State Medical and Pharmaceutical University in 2002