SPHIS Home » News » CHOT and The Humana Foundation review social determinants of health
CHOT and The Humana Foundation review social determinants of health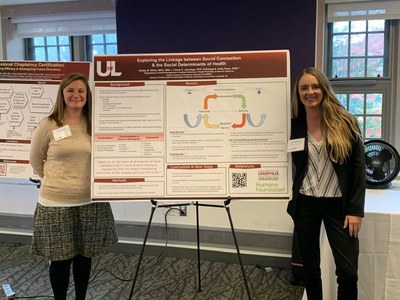 In 2019, the Center for Health Organization Transformation (CHOT), which is housed in the University of Louisville School of Public Health and Information Sciences, began working on a project with The Humana Foundation to review the literature around identified social determinants of health. As part of this work, CHOT will also conduct a social network analysis within each of The Humana Foundation-funded communities to better understand existing inter-agency relationships that address social determinants of health.
J'Aime Jennings, PhD, Assistant Professor, CHOT Co-Director, is leading the research alongside her colleague Liza Creel, PhD, MPH, Assistant Professor, and a team of doctoral and masters-level research assistants.
"This research is important as it helps industry members understand the impact of their investments to improve population health and disseminate information about those investments to their partners, community stakeholders, the healthcare industry and academic communities," said Jennings.
While numerous studies have examined the many social determinants of health, this project systematically reviewed the literature in the areas of social connectedness, food security, financial asset security, and post-secondary success and sustainable employment. In addition, the research team assessed the baseline population health status using Census-level and other aggregate data in eight U.S. communities, where The Humana Foundation has held Strategic Community Investments.
Brandy Kelly Pryor, Senior Director of Programs at The Humana Foundation, said, "In a time when we know data around social determinants is more critical than ever, this partnership allows us to expand our reach and capacity of the work of the Foundation.  As an Industry Advisory Board member discussing and working in partnership with our UofL CHOT partners and the other universities, we are able to influence how data should be examined through an equity lens in the sector of philanthropy and also providing leadership and direction for the entire healthcare sector."
Phase Two of the project began in January 2020, and researchers are preparing to conduct initial social network analyses in three of the funded project communities (Louisville, New Orleans, and San Antonio), as well as developing recommendations for strengthening evaluation efforts and learning opportunities among grantees. These analyses are intended to help The Humana Foundation better understand how organizations collaborate to address key social factors and to support the Foundation's efforts to have the greatest impact on social determinants of health.
Early results from this research have been accepted for presentation at the Kentucky Public Health Association Annual Conference and AcademyHealth Annual Research Meeting, and have been submitted for presentation and/or publication in a variety of additional peer-reviewed outlets.