Grades K-2
The following experiences are designed to address Next Generation Science Standards and are easily customizable. (Click titles for details.)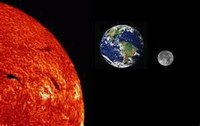 Three Amigos: Sun, Earth and Moon (K-2nd grade)

This experience takes advantage of an immersive environment to transport the audience into outer space.  The journey begins with a "feet on the ground" perspective that allows a young audience to relate to complex concepts in physics and astronomy.  This experience explores the intrinsic relationship between the Sun, Earth, and Moon, targeting foundational ideas at the kindergarten level and incorporating more advanced treatments of key concepts at grade-appropriate levels. The journey ends with a tour of the night sky, highlighting major constellations of the current season. (Duration: 15-35 minutes - length of program is determined in collaboration with customer)
NGSS Disciplinary Core Ideas: ESS1.A, ESS1.B, ESS1.C, ESS2.C, PS2.A, PS2.B, PS3.C, PS3.D, PA4.B, PS4.C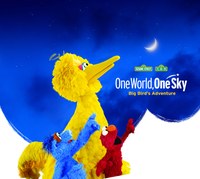 One World, One Sky (*PreK-K)
Explore the night sky with your favorite friends from Sesame Street in Big Bird's Adventure: One World, One Sky. Follow along with Big Bird, Elmo, and their friend from China, Hu Hu Zhu, as they take you on a journey of discovery to learn about the Big Dipper, the North Star, the Sun, and the Moon. Together they take an imaginary trip from Sesame Street to the moon, where they discover how different it is from Earth. They also journey to China to learn about the similarities in our view of the sky. (Duration: 25-35 minutes - length of program is determined in collaboration with customer)
*Note:  "One World, One Sky" is also recommended for first graders who have not experienced the program in earlier grades.

NGSS Disciplinary Core Ideas: ESS1.A, ESS1.B, ESS1.C, PS3.B, PS4.B
Our Place in Space (K-2nd grade)

Attendees at the Festival of Faiths, Home and Garden Show and school science nights all have been awed by this dynamic, immersive option. The experience is easily adapted to reach a large number of people of various ages and knowledge levels, from kindergarteners to adults. Beginning on the Earth, the audience is launched into space to venture to the edge of the observable universe.  The pilot makes stops along the way to point out key astronomical facts and data.  This exciting voyage also chronicles man's desire to travel amongst the stars. (Duration: 15-35 minutes - length of program is determined in collaboration with customer)
NGSS Disciplinary Core Ideas: ESS1.A, ESS1.B, ESS1.C, PS4.B, PS4.C
NGSS Disciplinary Core Idea Progressions
Each experience/program within the astronomical experiences offered by Gheens Science Hall and Rauch Planetarium is focused upon the Disciplinary Core Idea Progressions. Each core idea is presented at the appropriate grade band with overlapping of more than one sub-idea, to allow a transition period for understanding and meeting performance expectations. Click the button below for detailed Performance Expectations and additional information.

Customize Your Experience
Our experienced and knowledgeable planetarium educator can work with you to customize the experience (within the capabilities of the technology). Possible customizations include, but are not limited to:
Expanded experiences (up to half a day per session)
Concentrated focus on specific learning objective
Incorporation of teacher-led instruction into program delivery
Schedule Now!
502-852-6665
planet"at"louisville.edu