Grapperhaus Research Group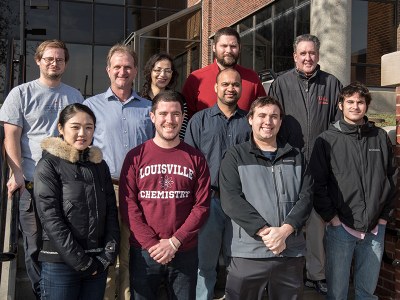 Research in the Grapperhaus Group focuses on inorganic and bioinorganic chemistry. Our research team has a special interest in ligand-centered reactions including 'non-innocent' ligands that participate in oxidation-reduction events, ligand modfication/functionalization, and ligand-centered catalysis. Our studies employs a variety of techniques including ligand design and synthesis, inorganic synthesis including air-free techniques, spectroscopy (UV-vis, FT-IR, NMR, EPR) electrochemistry, x-ray crystallography, mechanistic investigations, and DFT computations. Undergraduate and graduate students develop a broad based approach to research and problem solving. Key collaborators include Prof. Robert Buchanan (UofL), Prof. Pawel Kozlowski (UofL), Dr. Mark Mashuta (UofL), and Prof. Y. James Kang (Regenerative Medicine Research Center, Sichuan University).
Students interested in undergraduate and graduate research positions should contact Prof. Grapperhaus. We are currently not accepting post-doctoral fellow applications.
Post-doctoral position

A postdoctoral position in the research group of Professor Craig Grapperhaus in the Department of Chemistry at the University of Louisville is available effective September 1, 2017 pending university approval. The position will focus on molecular electrocatalysts for the evolution/oxidation of hydrogen and the activation of other small molecules. The project involves inorganic syntheses, electrocatalysis, mechanistic studies, and computational investigations. This position offers the opportunity to utilize a variety of techniques and develop a broad base of skills while working with a multi-disciplinary team. Prior research expertise in inorganic chemistry, electrochemistry, and mechanisms is essential. Interested individuals should send the following files to grapperhaus@louisville.edu:  CV (including publication list), a statement of research interest including a brief description of past work, and contact information of three references. 
Follow us on Facebook