Bioanalytics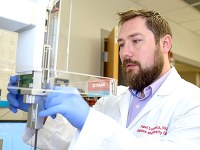 The core mission of the Bioanalytics Core is to provide investigators with technical expertise, education and mass-spectrometry based analytical services, and to develop new analytical approaches.
---
Aims of the Core
Support current COBRE and Center projects. The Bioanalytics Core provides intellectual input, technical expertise and mass-spectrometry based analytical services, to address the needs of investigators.
Educate and train investigators. The Core educates investigators about the principles of mass spectrometry, separations and other bioanalytical technologies. We work together to develop conceptual frameworks and execute well designed experiments.
Develop new protocols and techniques. The Core utilizes mass spectrometry to design high sample and information throughput methods to accommodate the growing needs of researchers. Core personnel attend conferences and workshops to educate themselves about advancements in the field. The Core continues to expand its knowledge-base and technical expertise to satisfy the future needs of the Center.
---
Facilities & Instrumentation
The Bioanalytics laboratory is in the Delia Baxter II Biomedical Research Building (580 South Preston Street) on the University of Louisville Health Science Campus. It occupies over 2000 sq. ft of laboratory space and provides rich and diverse resources from which the investigators interface to develop their own independent research programs.
Instruments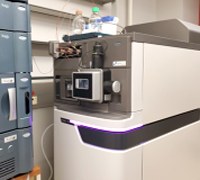 Waters Synapt XS HRMS with
ACQUITY UPLC I-Class System
(obtained through the NIH Shared Instrumentation Grant Mechanism - S10 OD026840)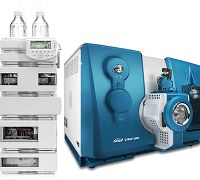 Sciex5500 QTRAP MS with
Shimadzu Nexera LC system
The following instruments have been decommissioned and are no longer available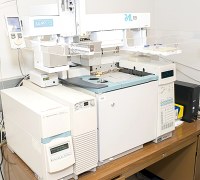 Agilent 6890N GC-MS with CTC PAL3 autosampler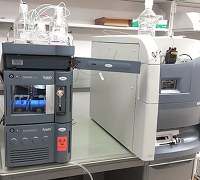 Waters Quattro Premier XE triple quadrupole MS
with an Acquity Classic UPLC system

---
Core Services
Currently, our Core has excellent targeted analytical workflows based on the state-of-the art UPLC/UHLPC-MS/MS systems with triple-quadrupole analyzers. In August 2020 the Core added a high resolution, state-of-the art Waters Synapt XS LC-MS system (obtained through the NIH shared instrumentation grant mechanism – S10 OD026840).
The Bioanalytics Core facilitates characterization and quantitation of small molecular weight analytes in biofluids, tissues and cells.
Services available:
UPLC-MS/MS measurements

28 VOC metabolites and 5 tobacco alkaloids in urine
Low abundance VOC metabolites in urine
Biogenic monoamines and their metabolites in urine
Histidine/histidine dipeptides in tissues/urine
Measurement of cortisol/cortisone in urine
Muconic acid in urine
LC-MS/MS analyses of 41 lipid mediators

Stable isotope resolved metabolomics analysis - data acquisition (Synapt XS) and analysis
(The Core can analyze stable isotope labeled data from Waters and Thermo HRMS systems)
Discovery and identification LC-MS


Untargeted and semi-targeted metabolomics analyses
Screening and identification of xenobiotic metabolites (mercapturates, GSH-conjugates, 1st and 2nd phase metabolites)
Analyte confirmation (accurate mass, fragmentation)

Method development

Synapt XS untargeted and targeted method development
LC-MS/MS quantitative method development
GC-MS method development (instrument currently unavailable)

Training
* - minimum of 10 samples. Less samples will be charged minimum. For pricing inquiries and questions related to services offered, please contact Director, Dr. Pawel Lorkiewicz.
Sample submission forms
---
Additional Areas of Expertise
Pawel Lorkiewicz, Ph.D. - LC-MS, GC-MS, FT-MS, HRAM, MALDI, GCxGC, SIRM, metabolomics, lipidomics, biomarker discovery, targeted analysis, tobacco products
Jason Hellman, Ph.D. - Lipid mediator quantification, mass spectrometry, LC-MS, lipidomics
Shahid Baba, Ph.D. - Histidyl dipeptide metabolism, LC-MS, targeted analysis, structural elucidation