images
Student Parent Support Group
Student Parent Support Group
Mission Statement
The mission of the Women's Center Student Parent Support Group is to provide resources, information, and genuine support for student mothers empowering them to more effectively meet the needs of their personal, academic and professional lives. The goal for the group is to promote the academic success of the university's student-parents.
Meetings and special programs are held during the academic year for moms (student-parents). Various guest speakers are invited to provide expertise on topics of interest.
U of L Student-Student-parents student-parents are asked to complete the Support Group Questionnaire to help us in our planning of events/activities and discussions for the group. We value your input.
Meeting dates, times, and locations vary each semester.
Past topics that were discussed at various meetings:
Identity theft; Child Safety Issues ("What Do I Say Now"); Health Care Reform for Parents and other Young Adults; Legal Issues dealing with Child support, custody and visitation rights, etc.
Parenting tips, stress management and budgeting were topics of discussion in previous MOMS meetings.
For details on dates, times and locations of upcoming meetings, e-mail Phyllis M. Webb, e-mail: phyllis.webb@louisville.edu or call the Women's Center, 852-8976.
Special Events
Special events have included Child Identification (ID) Programs, coordinated with the University's Department of Public Safety as well as a Clothing Exchange Project Giveaway.
The Student Parent Association provided assistance to student-parents and also contributed clothing to a needy family from the Angel Tree Program; donations to a local elementary school resource center and PTA Clothes Closet. DPS provided stuffed animals at both programs for the children of the parents who attended. The group also conducted two fundraisers this past year.
See links, http://www.louisville.edu/uofltoday/campus-news/womens-center-helps-parents-with-clothing-giveaway
Phyllis M. Webb, Program Coordinator, Women's Center and Officer Cherie Smith, Dept. of Public Safety at the Child Identification Program, McDonald's Restaurant, March 2010. Child ID kits and safety information were distributed to parents/guardians.
Boxes of clothing line the walls at the Women's Center prior to the December 2010 Clothes Giveaway.
Special thanks to all the faculty, staff, students and the community who donated to the clothing drive.
U of L student,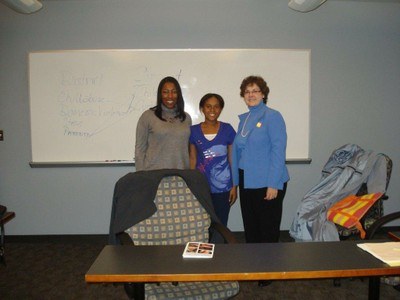 Brittney D. Smith, who works in the Women's Center is pictured with Attorney Gretchen Avery (left) and Family Court Judge Patricia Walker-FitzGerald (right) at a MOMS Support Group meeting in November 2010. Attorney Avery and Judge FitzGerald, both U of L graduates, led a legal issues panel discussion for the group.
Suggested Organizations that advocate for student parents
STUDENT PARENT SUPPORT SYMPOSIUM at The Ohio State University. E-mail Jessica Parent,e-mail: parent.22@osu.edu for more details
HIGHER EDUCATION ALLIANCE OF ADVOCATES FOR STUDENTS WITH CHILDREN (HEAASC), http://www.heaasc.org/