Elect Her 2016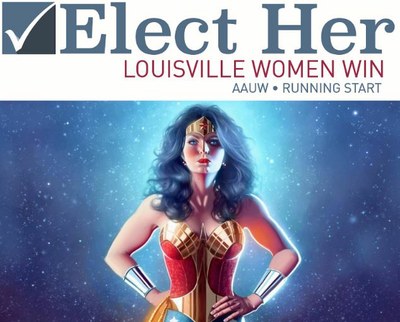 Wednesday, November 2nd, 2016
5:30pm Registration and light meal; Program begins at 6:15pm
Chao Auditorium 
Train more women to run for office!
The Women's Center and the American Association of University Women (AAUW) at UofL is offering an unique experience where students will practice hands-on campaign skills and hear from inspiring local speakers. 
Whether you wish to run for student governments/councils, future political offices or just wish to build confidence, strengthen leadership, and master communication skills, this event is for you! The skills learned in this workshop, will transfer to any leadership role, not just student government. This is an inclusive event and it is open to ALL college students! High school Juniors & Seniors are welcomed to attend as well. We welcome and embrace intersections of identity, including gender expression and identity, sex, sexuality, race, ethnicity, national origin, first language, ability, age, religion, and socioeconomic status.
Elect Her is the only program in the country that encourages and trains college women to run for student government and future political office. A collaboration between AAUW and Running Start, Elect Her addresses the need to expand the pipeline of women candidates and to diminish the longstanding political leadership gender gap.
This workshop will take place on Wednesday November 2nd starting at 5:30pm, in Chao Auditorium in Ekstrom Library. The training is free and a light meal will be provided.
Guest speakers include Attica Scott, KY State House of Representative; Jessica Kelly, AAUW's Program Manager of Campus Leadership Programs; and Amanda Nitzken, University of Louisville Student Government Association Vice President.
For more information, (502) 852-8976 or womenctr@louisville.edu.
 Registration for UofL Students
***UofL students are required to register through OrgSync.

Registration for Other College & High School Students

Sponsored by: