Women's Empowerment Luncheon 2020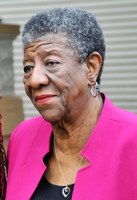 2020 Women's Empowerment Lunch Speaker
"The Strength of One Woman Can Impact Generations."
 Local Civil Rights activist Mattie Jones, was the keynote speaker Nov. 10 at the 18th Annual Women's Empowerment Luncheon for the University of Louisville Women's Center. Mrs. Jones has been involved in community activism for over six decades. She helped organize countless demonstrations, public conversations, and boycotts focusing on everything from desegregation to women's and worker's rights and environmental justice.
The event took place at 11:30 a.m. virtually via Microsoft Teams. Mrs. Jones discussed "The Strength of One Woman Can Impact Generations." Watch the program via our Youtube. 
Recipients of various awards were announced by the Women's Center.
Gender Equity Tachau Award - Lisa Gunterman


Dr. M. Celeste Nichols Award - Charlotte Asmuth, Brittany Smart & Alexandra Hammond
| Alexandra Hammond | Brittany Smart | Charlotte Asmuth |
| --- | --- | --- |