International Women's Day 2015
March 2nd, 2015 1 - 4pm, The Avenue at Cardinal Towne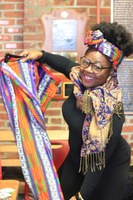 This is a one day Cultural Awareness Event hosted by Women 4 Women Student Board is dedicated to celebrating the cultural differences of women by raising awareness of some of the many underrepresented cultures or religions on campus. We plan to have various dancing, speeches, and activities that allow women at our university to learn about various traditions.
OPEN TO ALL. FREE INTERNATIONAL FOOD.
Sponsored by UofL Women's Center.
Event Agenda
International Food 1-2pm
Opening/Welcome
-Nadia Hamid & Kaelin Black, IWD Chairs
Bosnian Song
-Merjem Efendira
Dance Performance
-Savannah Guerrero
SHORT BREAK
The Black Muslim Woman Experience: Dealing with Ferguson and the Chapel Hill Shooting
-Cheylan Marleen
Latin Fusion Dance Performance
-Chelsey Owens and Luis Arduz
SHORT BREAK
Spoken Word
-Aaisha Hamid
Belly Dance Performance
-Traci Kruer
Closing/Thanks
Invitation to be a part of a dance workshop and/or continue visiting tables
International Women's Day Committee
Chair - Kaelin Black
Co-Chair - Nadia Hamid
Aaisha Hamid
Brigid Connelly
Rebecca Lepovsky
Aamina Qadir
Rabia Qadir
Sarah Baer
Brina Joiner