Elizabeth Cady Stanton Luncheon 2010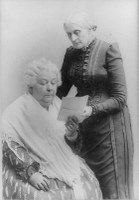 The origin of the Elizabeth Cady Stanton Awards Luncheon lies in the 2001-2002 Tenth Anniversary Year of Celebration for the UofL Women's Center. During that celebration, the Center hosted a kick-off luncheon with a keynote; and invited university staff and faculty to attend the event, bringing a younger woman as a guest. This model was so successful, that the Center repeated it at the conclusion of the Anniversary Year with a gala dinner honoring UofL's "founding mothers" whose vision gave birth to the Commission on the Status of Women; the Women's and Gender Studies Department; and the Women's Center.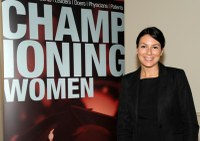 Ms. Alison Stein founder of the Younger Women's Task Force (YWTF) poses near the Women's Center 'Championing Women' sign at the 2010 Elizabeth Cady Stanton Luncheon held in November.
Tachau Gender Equity Award
The Tachau Award recognizes a member of the U of L community who has done significant work toward gender equity.
2010 Mary K. Bonsteel Tachau Gender Equity Award Recipient:
Ms. Bonny Manning a staunch advocate for Kentucky's women, past president of the local and state chapters of the Business and Professional Women; and organizer of the Equal Pay Coalition to begin lobbying legislators in the Commonwealth for passage of HB 399.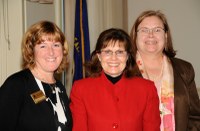 Tachau Gender Equity Award Recipient, Bonny Manning (center) poses with Susan Duncan, Co-chair of the U of L Commission on the Status of Women (COSW) and Mary Karen Powers, Director of the Women's Center.
Dr. M. Celeste Nichols award
The Nichols Award, given to a U of L graduate student for travel or other professional development.
2010 Dr. M. Celeste Nichols Award Winners:
Elizabeth D. Lush, PhD, Psychology, who will orally present the findings of her doctoral dissertation, Social Support and Immune Function in Breast Cancer: Potential for Circadian Mediation at the American Psychosomatic Society's 69th Annual Scientific Meeting , March 2011;
Jean S. Edward, PhD, Nursing, who will present her abstract titled, "Developing a Health Disparities Agenda at a Metropolitan University" in a poster format at the Southern Nursing Research Conference, February 2011;
Candace D. Bell, MPA, Public Administration, who will attend the Black Studies Conference to connect with others on the educational focus on African American females and social issues in relation to their maturation and also disparities within the juvenile justice system, March 2011.
Dr. M. Celeste Nichols award winners, Elizabeth Lusco, Candace Bell and Jean Edward at the luncheon held in the University Club.
View more information and photos from the 2009 Elizabeth Cady Stanton Luncheon.