Reproductive Freedom Events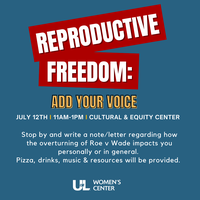 Reproductive Freedom: Add Your Voice
Tuesday July 12th 11am-1pm Cultural & Equity Center
Stop by and write a note/letter regarding how the overturning of Roe v Wade impacts you personally or in general.
Pizza, drinks, music & resources will be provided.
Through the collaboration of the Women's Center, the Office of the Chief Operating Officer, the American Association of University Women (AAUW) at UofL, and the Student Government Association (SGA), specific dispensers & baskets are located on all three UofL campuses with free personal products.