When you login you will be presented with a list of your current requests and their statuses: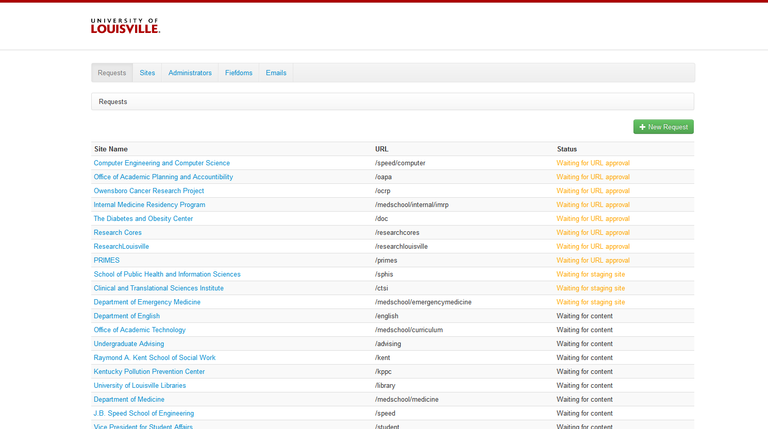 The statuses are as follows:
Waiting for URL Approval: Your request is in line at OCM to have the your requested URL Approved
Waiting for Staging Site: Your URL has been approved and IT is in the process of creating your site container.  These are normally done on the weekend that your site was approved.
Waiting for Content: Your site is created and is ready for you to create and build
Waiting for ADA/Content Reviews: Your site has been submitted for review and is in that process - you'll receive a checkmark when each review passes.
Complete: Your site is live at the approved URL!! Congratulations!
On Hold: If your request is on hold then there is some administrative reason and we'll be working with you to resolve whatever issues there may be.
Denied: If for some reason your request doesn't meet the guidelines for a site at the University it could be denied.
From you here you can use the +New Request button to submit a new request for a site.  The form will come up: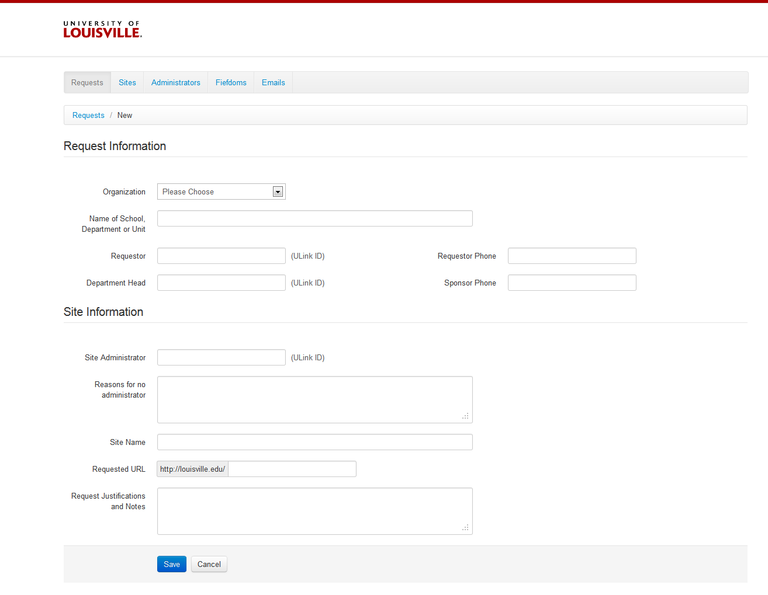 To fill this form out properly:
Organization: Choose the option that best describes your unit or department
Name of School, Department or Unit: Usually your department name or school name (if the site is for the school as a whole)  If you're a research group or lab put the department or school you're affiliated with.  If you're a center or an institute that exists outside the University, you can put the name of the program that you're affiliated with.
Requestor/Department Head Information: The UofL user ID's and phone numbers where we can reach you.  The department head is usually the dean or chair and is only contacted when we need to change site administrators or other administrative issues.
Site Administrator: The UofL user ID if the person that is in charge of the site and has or will attend the Site Administrator training offered by IT Next Gen Services.  If you don't have an administrator or are not sure who it's going to be you may note that in the Reasons for No Administrator field and leave the Site Administrator field blank
Site Name: The title of your site.  This is what your container name will be set to when it's created and is usually the name of your school, department or program.  Note that this is not the URL that you're requesting
Requested URL: The louisville.edu address that you would like for your site to live at.  Note that we no longer do vanity domains (i.e. mysite.louisville.edu) and that all URL's are subject to approval by the Office of Communication and Marketing
Request Justification and Notes: If you have any special requests, questions, or notes about your request that we should know about just put them in here.
---
Submitting your site for review
When your site is created and you're ready to go live just click on the request and the detail page will come up: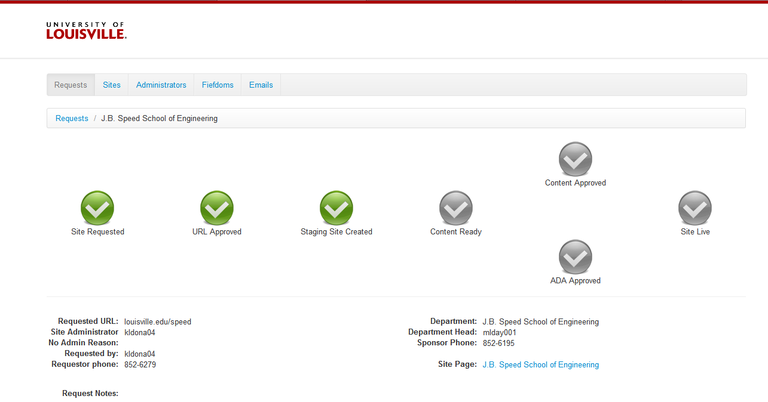 All you have to do is click the check mark for "Content Ready" and you'll enter the queue to have your content and ADA reviews performed and be able to follow along the process and know where each of your sites are in the workflow.