The University of Louisville continues to be recognized for excellent tree care on its urban campus, this year winning the Arbor Day Foundation's Tree Campus USA distinction for the 10th consecutive year.
The designation means UofL has met or exceeded the foundation's standards of care for the more than 2,000 trees that cover the 309-acre Belknap Campus.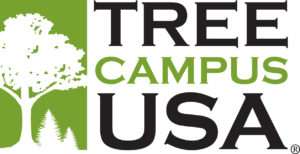 "This honor represents a decade of dedication to the idea of trees as vital urban infrastructure – for shade and energy savings, food and wildlife habitat, storm water infiltration and soil stabilization, beauty and mental health, and clean air and carbon sequestration. We look forward to an even more leafy campus in the coming decade," said Justin Mog, assistant to the provost for sustainability initiatives.
The university was first recognized in 2010 for its comprehensive tree-care plan that guides tree selection, planting, maintenance and education. Trees on Belknap Campus represent more than 130 species, including many native to the region. Among them are ash, dogwood, tulip poplar (the Kentucky state tree), oak, persimmon, magnolia and elm, including a rare American elm. Visitors to Belknap Campus can take a self-led walking tour that highlights some of these treasures.
The Arbor Day Foundation has helped campuses throughout the country plant thousands of trees, and Tree Campus USA colleges and universities invested more than $51 million in campus forest management last year. The nonprofit foundation is a conservation and education organization with the mission to inspire people to plant, nurture and celebrate trees.
To read UofL's 12-page tree care plan, click here.
Source: UofL's Tree Campus USA designation reaches 10th year (UofL News, Jan. 29, 2020)